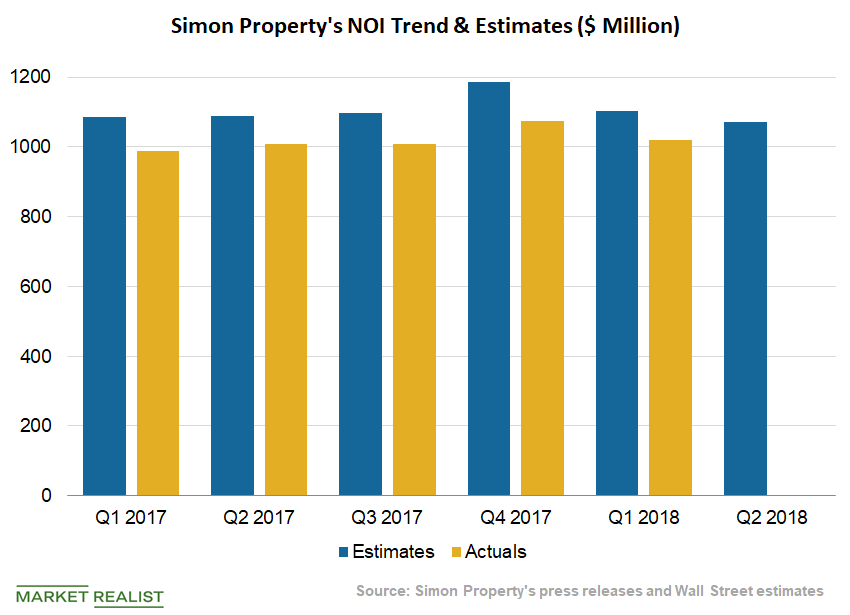 Expansion, Development Initiatives to Drive SPG's Income
Second-quarter expectations
Analysts expect Simon Property Group (SPG) to report net operating income (or NOI) of $1.07 billion in the second quarter, signifying a 6.2% increase YoY (year-over-year). Similarly, they're expecting its NOI margin to come in at 76%, depicting a ~200-basis-point YoY expansion.
The expected upswing in the company's NOI margin is likely to be driven by higher base minimum rents and leasing spreads per square foot.
Article continues below advertisement
Amid a challenging retail environment, Simon Property is trying to develop its properties into entertainment hubs by renting more restaurants, multiplexes, and nightlife so that stores can stay open late and it can charge more in rent. Also, the company is focusing on developing high-end properties in prime locations and near residential and office areas so that traffic footfall remains strong. Additionally, it's renting more spaces to luxury retailers than to discount retailers, as they're more resistant to e-commerce and attract wealthier customers.
All these efforts have been paying off well, as has been reflected in Simon Property's recent quarterly results. In the first quarter, the company's total sales per square foot and base minimum rent per square foot rose 4.2% and 3.2%, respectively, despite a fall of 100 basis points in its occupancy rate. This has helped the company's total portfolio NOI register a YoY rise of 4.8% in the first quarter.
Wall Street expects the trend to continue in the second quarter as well, driving the company's NOI higher.
Where its peers stand
Wall Street expects Simon Property's main competitors Equity Residential (EQR), GGP (GGP), and Kimco Realty (KIM) to report NOI of $421.9 million, $460.9 million, and $211.6 million, respectively.
Simon Property and its above-mentioned peers make up ~14% of the Schwab U.S. REIT ETF (SCHH). Schwab's broadly diversified portfolio provides investors with a cushion from macro headwinds.