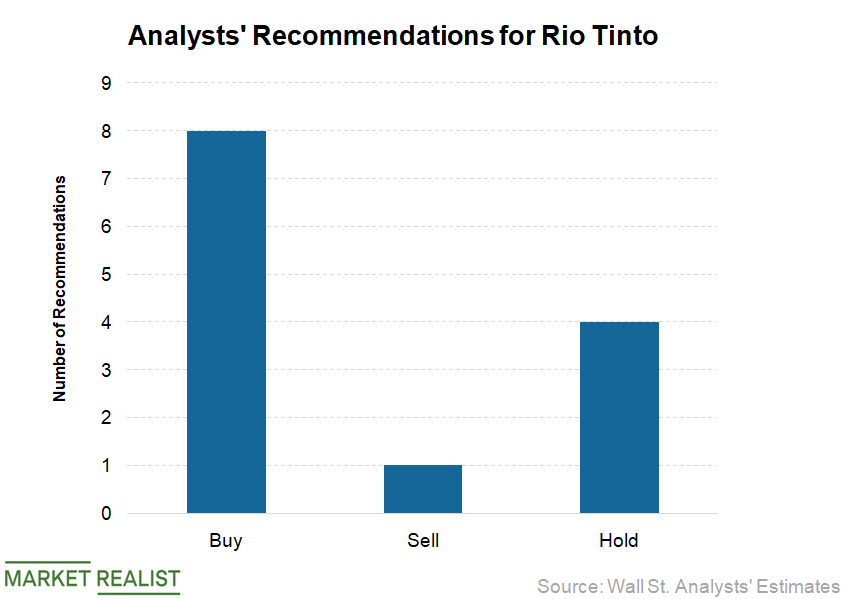 Why Analysts Are Becoming Bearish toward Rio Tinto
Analysts' ratings for Rio Tinto
Of the 13 analysts covering Rio Tinto (RIO) stock, 61% recommend "buy," 31% recommend "hold," and 8% recommend "sell." One year back, 80% of analysts recommended "buy." In comparison, of the analysts covering BHP Billiton (BHP) and Vale (VALE), 53% and 56% recommend "buy," respectively. Cleveland-Cliffs (CLF), which is mainly exposed to the US domestic market, has "buy" recommendations from 54% of analysts covering the stock.
Article continues below advertisement
JPM's upgrade
On June 7, JPMorgan Chase (JPM) upgraded Rio from "neutral" to "overweight," indicating that its analysis of the next generation of iron ore and coal projects showed that strong prices are needed for new capacity to come online. Therefore, it raised its long-term outlook for iron ore and coal. JPMorgan Chase analysts prefer Rio to BHP as they believe that the oil price rally that helped BHP outperform this year has run its course.
Other rating changes
HSBC downgraded Rio Tinto (RIO) from "buy" to "hold" on May 23, and Barclays downgraded RIO from "overweight" to "equal-weight" on May 4. As we've discussed previously in this series, Barclays's recommendation was a switch from bullishness on Rio to BHP as it believes that BHP's underperformance over the last five years is about to end. Barclays also believes that BHP is in a better position to cope with "peak iron ore" than Rio or Vale (VALE).
Vertical Group initiated coverage on RIO with a "sell" on April 9. On April 6, Exane BNP Paribas downgraded Rio from "outperform" to "neutral." According to Proactive Investors, the company stated that "its cash returns mantra is now well understood and we think the recently announced sale of the coking coal assets (for impressive valuations ahead of market expectations) concludes the most active period for divestments."
It believes that Rio stock has re-rated from a year ago and it is difficult to argue for further earnings upgrades or valuation expansion, concluding, "We adjust our B-Riometer dial in favour of BHP Billiton for the first time based on a more favourable catalyst landscape in 2018."