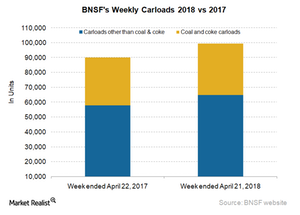 BNSF Railway's Traffic Trends in Week 16
By Samuel Prince

Apr. 27 2018, Updated 3:25 p.m. ET
BNSF Railway's carload traffic in Week 16
In the week ended April 21, or Week 16, Berkshire Hathaway–owned BNSF Railway's (BRK.B) carload volumes rose 10.6% YoY (year-over-year) to ~99,500 railcars from ~90,000. In comparison, rival Union Pacific's (UNP) carload volumes rose 0.6% YoY. BNSF more than tripled US railroads' (IYJ) carload volume expansion of 3.5% that week.
Carloads excluding coal and coke comprised 65% of BNSF's total carloads in Week 16, while coal-and-coke carloads comprised 35%. In the same week last year, these proportions were 64% and 36%, respectively. Week 16's gains were dominated by 12% growth in carloads other than coal and coke. BNSF hauled ~7,000 more carloads in 2018, exceeding ~64,800 units. Coal-and-coke (ARCH) carload volumes rose 8% YoY in Week 16, to ~34,600 carloads from ~32,000.
Article continues below advertisement
Changes in carload commodity groups
The following commodity volumes rose in Week 16:
grain
chemicals
motor vehicles
sand and gravel
grain mill products
The following commodity volumes fell in Week 16:
metals
petroleum products
Intermodal volumes in Week 16
BNSF Railway's intermodal volumes rose 9.3% YoY in Week 16 to ~102,000 trailers and containers from 99,300. Container traffic grew 6.6% YoY to ~89,300 units from ~83,800, whereas trailer volumes rose significantly, by 32.9% YoY to 12,700 units from~9,600. In the first 16 weeks of 2018, BNSF's overall railcar traffic rose 4.8%, more than US railroad (GWR) traffic, which grew 3.0%. The next article covers Union Pacific's freight volumes.