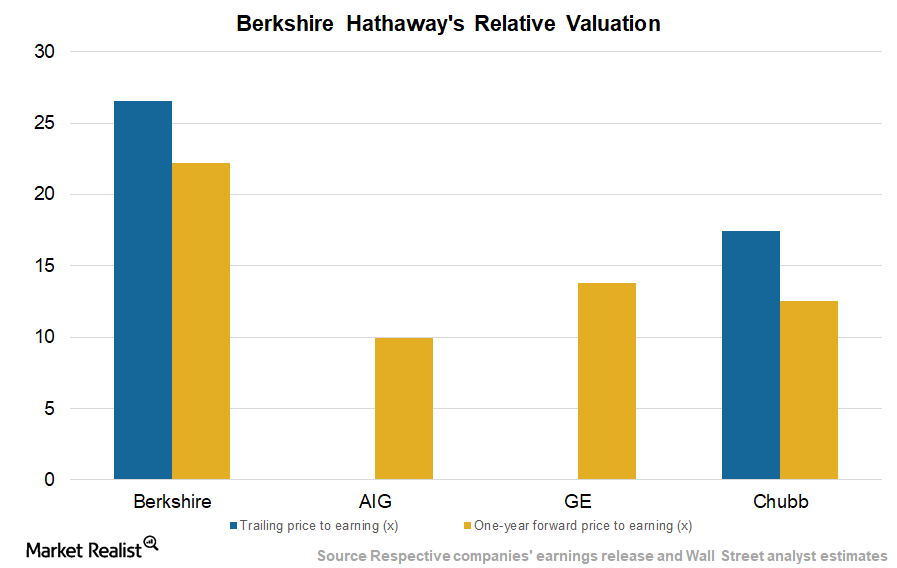 Berkshire Hathaway's Valuations Command a Premium after Market Declines
By Robert Karr

Mar. 7 2018, Updated 10:30 a.m. ET
Stock returns
Berkshire Hathaway (BRK.B) stock has declined ~7.0% in the last one month and has risen 19.2% in the past one year. In comparison, the S&P 500 (SPX-INDEX) (SPY) declined 4.5% over the past one month and rose 15.0% over the similar period.
On a year-to-date basis, BRK.B stock is outperforming this index, backed by strong cash flow generation, the improved performance by BNSF, and its energy divisions.
Berkshire Hathaway (BRK.B) is expected to see strong growth of ~2.0% in revenues in 2018, helped by strength in manufacturing, BNSF, and a rebound in insurance. This improvement would be partially offset by weaker investment earnings, as well as stable to subdued services revenues.
However, analysts are expecting a steep rise of 46.0% in its net earnings mainly due to improved operating margins, lower claims expectations, and lower tax rates across the investments.
The Insurance segment's performance is mostly dependent on claims arising from natural calamities amid rising net premiums.
Article continues below advertisement
Quality commanding premium
Berkshire Hathway's diversified and healthy operating earnings capacity has allowed it to garner premium valuations over the years. The company is currently trading at a one-year forward PE (price-to-earnings) multiple of 22.2x.
Its peers' average one-year forward PE multiple is 12.1x. Berkshire Hathway's valuation premium has declined marginally primarily due to declines in stock prices across the board.
While Berkshire Hathaway's last-12-month PE multiple is 26.5x, its peers (XLF) General Electric (GE) and Chubb (CB) are trading at 14.0x and 17.5x, respectively. On December 31, 2017, Berkshire Hathaway's portfolio was valued at $191.0 billion, compared to $178.0 billion in 3Q17.
The performance of the major holdings in Berkshire Hathaway's portfolio follow:
Berkshire Hathaway's major drivers in 2018 are expected to be claims, the growth of BNSF, its energy business, and growth in the service sector.