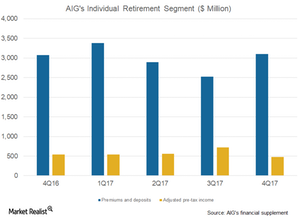 The Performance of AIG's Individual Retirement Business
By Raymond Anderson

Updated
Assets under administration
American International Group's (AIG) Individual Retirement segment's assets under administration (or AUA) ended 2017 with $150.7 billion due to favorable momentum in the equity markets. However, index annuity net flows were also a major contributor. The segment witnessed negative net flows in 4Q17 and fiscal 2017 due to lower premiums and deposits.
In 4Q17, the Individual Retirement segment saw inflows of $0.7 billion. The segment reported outflows in retail mutual funds, variable annuities, and fixed annuities resulting in net outflows of $0.4 billion.
Article continues below advertisement
Adjusted pretax income
AIG's Individual Retirement segment reported a decline in pretax income in 4Q17 on a year-over-year basis. In 4Q17, AIG's pretax income stood at $474.0 million compared to $542.0 million in 4Q16. In 2017, the segment garnered premiums and deposits of $11.9 billion compared to $16.0 billion in 2016.
Of the segment's $11.9 billion in premiums and deposits, retail mutual funds contributed $3.0 billion while index annuities contributed $2.7 billion. However, fixed annuities and variable annuities contributed $3.0 billion and $3.2 billion, respectively.
The Individual Retirement segment reported a marginal rise in net investment income from $1.01 billion in 4Q16 to $1.03 billion in 4Q17.
AIG's enterprise-value-to-revenue ratio stood at ~1.6x on an LTM (last-12-months) basis. Among its peers (XLF), RenaissanceRe Holdings (RNR), Aspen Insurance Holdings (AHL), and Hartford Financial Services (HIG) reported enterprise-value-to-revenue ratios of 3.1x, 0.66x, and ~1.3x, respectively, on an LTM basis.