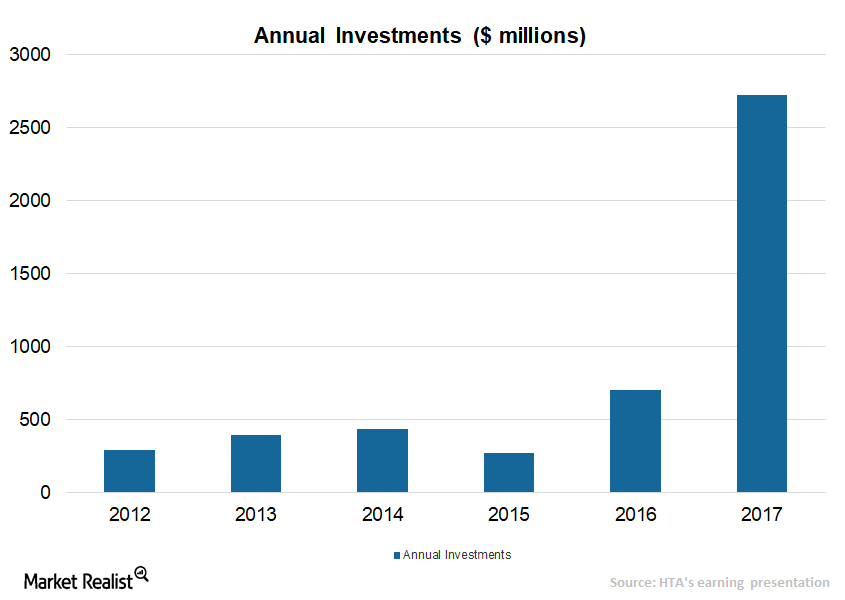 HTA's Portfolio Riding on Investments, Acquisitions, and More
By Raina Brown

Feb. 27 2018, Updated 7:32 a.m. ET
Investments
Healthcare Trust of America (HTA) completed investments of $2.7 billion in 2017, and 90.0% of these properties are in key strategic markets. The total gross leasable area (or GLA) totaled ~6.8 million square feet, which includes projects under development.
HTA closed on Dukes Assets in 2017. These assets total ~$2.0 billion and encompass 71 properties and two parcels of land, including 50.0% ownership interest in a joint venture. The capital expenses of this deal were limited due to the average age of Duke's Assets of 8.8 years.
HTA completed investments of $485.9 million, which includes expansion projects totaling 1.6 million square feet of GLA. The investments are located in HTA's 20 to 25 key markets.
Article continues below advertisement
Acquisitions
In 2017, HTA completed the acquisition of the Dukes development and construction platform. Prior to the acquisition, this development platform had developed over $1.0 billion in medical real estate assets over the last decade.
The average amount invested in acquisitions by HTA and its peers since 2012 are below:
HTA comprises 0.69% of the Vanguard Real Estate Index ETF (VNQ).
Dispositions
HTA completed dispositions of four medical office buildings in 2017. The aggregate sales price was $85.2 million and generated gains of $37.8 million.
Leasing
HTA entered into new and renewal leases of ~2.7 million square feet of GLA or 11.2% of the total portfolio. Tenant retention for this property portfolio was 78.0% and included ~1.5 million square feet of expiring leases. HTA has a lease rate of 91.8% by GLA and 91.6% for the same property portfolio.