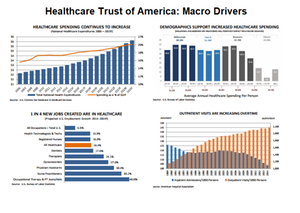 Healthcare Trust of America: Key Macro Drivers
By Raina Brown

Feb. 26 2018, Updated 11:15 a.m. ET
Changing demographics
Increasing aging demographics support healthcare spending, and ~10,000 people turn 65 every day. This increases the visits to a physician by a factor of four. With Millennials raising families, healthcare volumes are at a key inflection point. It is estimated that the average lifespan will surpass 80 by 2020.
According to the U.S. Bureau of Labor Statistics, the average annual healthcare spending per person among the age groups of 15–19 and 20–24 is $1,103. This amount increases to $5,708 in the age groups of 75–79 and 80 and above.
Article continues below advertisement
Outpatient visits
Private insurers and government providers focus on cost-effective care. Outpatient procedures have also become more cost effective, which has led to an increased number of outpatient visits. Health systems and providers are focused on convenience and make medical offices the primary beneficiary of this trend.
Because Healthcare Trust of America (HTA) has the largest share in the MOB segment, it's expected to gain due to these factors.
Healthcare spending
In 2015, US healthcare spending grew 5.8%, and health spending accounted for 17.8% of the nation's GDP. It's expected that healthcare expenditures could increase to 20.0% of the US GDP by 2025.
Jobs in the healthcare sector
According to U.S. Bureau of Labor Statistics, 25.0% of new jobs originate in healthcare, and the projected US employment growth in the healthcare sector is 16.4%.
Healthcare employment is growing twice as quickly as any other sector, and healthcare-supported occupations are projected to be the fastest-growing occupational groups from 2014 to 2024. The combined increase in new jobs is expected to be 2.3 million.
With these changing demographics and the rise of the healthcare sector, HTA's peers—Welltower (HCN), Ventas (VTR), and HCP (HCP)—are also expected to gain. HTA comprises 0.69% of the Vanguard Real Estate Index ETF (VNQ).