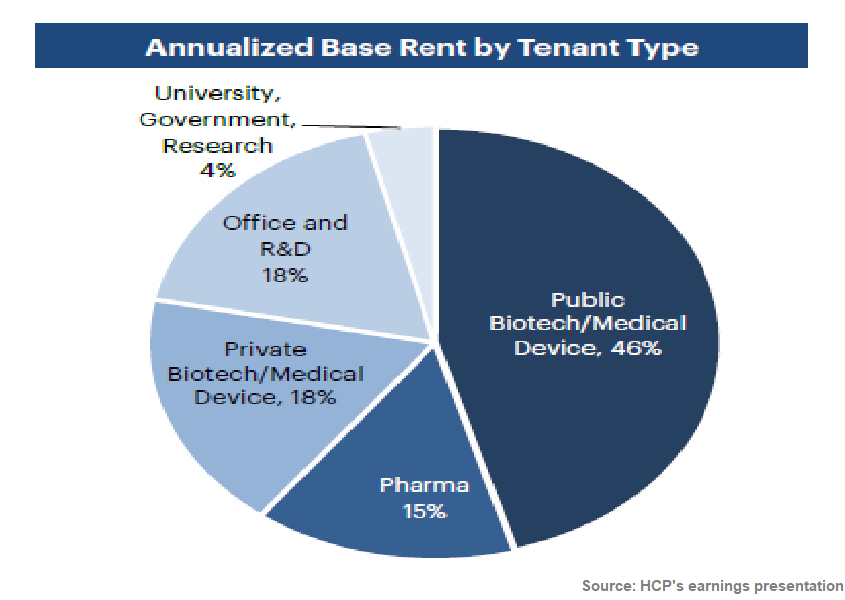 Chart in Focus: HCP's Life Science Portfolio
By Raina Brown

Feb. 28 2018, Updated 11:20 a.m. ET
Portfolio overview
HCP Inc.'s (HCP) Life Science portfolio had an average occupancy of 97.0% over the past two years. Of these revenues, 82.0% come from public or well-established private companies. HCP has developed deep industry relationships with major players such as Google (GOOGL), Duke University, and Amgen (AMGN).
Plus, 46.0% of the base rent comes from public biotech and medical devices. Office, research and development, private biotech, and medical devices comprise 18.0% of the base rent, and pharma comprises 15.0%.
Life Science is an 8.0 million square foot portfolio and represents ~25.0% of HCP's NOI. This portfolio is located in the core life science markets of South San Francisco and San Diego, and it's the largest landlord in South San Francisco. HCP recently marked its entry into the Boston market.
Article continues below advertisement
2017 performance
HCP's (HCP) Life Science portfolio's rental revenues rose 4.1% in 2017 to $304.0 million compared to $292.0 million in 2016. Its NOI also improved by 3.2% from $233.0 million in 2016 to $243.0 million in 2017.
Its adjusted net operating income rose by ~$9.6 million. This increase was mainly due to the mark to market renewals, new leasing activity, and annual rent escalations.
Outlook for 2018
HCP's Life Science portfolio is expected to grow in 2018 due to record VC funding, M&A activity, open IPO markets, and the recent strong performance of the pharmaceutical and biotech industries. Apart from these factors, HCP is actively working alongside its tenants to meet the evolving need for space.
HCP has a market capitalization of ~$10.7 billion, while its peers have market capitalizations of:
Healthcare Trust of America (HTA): ~$5.6 billion
Ventas (VTR): ~$18.3 billion
Welltower (HCN): $20.7 billion
Investors looking for exposure to the healthcare real estate sector can invest in REIT ETFs. HCP holds ~1.2% in the Vanguard REIT ETF (VNQ).