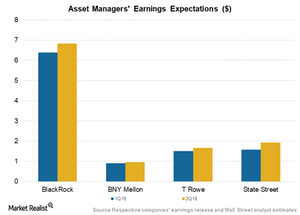 Asset Managers to See Growth on Diversified Offerings in 1Q18
2018 expectations
The recent fall in stocks globally is expected to put some pressure on asset managers' (VFH) operating performances in 1Q18. Managers have seen outflows from equities and debt in recent weeks due to the expectation of interest rate hikes. Investors are looking at alternative asset classes for deploying funds and also investing in equities in Japan and Europe amid weakening US equity performances.
Among the major institutions, BlackRock (BLK) is expected to post EPS (earnings per share) of $6.42 in 1Q18 and $6.85 in 2Q18, compared to $5.25 and $5.24, respectively, in the prior year's periods.
Article continues below advertisement
The growth is expected to come from diversified product offerings, including multi-asset offerings, long-term funds, and index-backed offerings. The company is also continuing to add assets in ETFs targeting European and Asian asset classes. In 1Q18, It is expected to post a top line of ~$3.3 billion, a 15.5% rise year-over-year.
Peers' expectations
Among BlackRock's peers, the Bank of New York Mellon (BK) is expected to post EPS of $0.95 in 1Q18 and $1.0 in 2Q18. BK expects to see a sequential rise of $0.04 in its EPS, aided by growth in equity holdings, core banking operations, and investment banking growth.
The Bank of New York Mellon is expected to see revenue of ~$4.0 billion in 1Q18—a rise of 5.8%—aided by higher rates, assets under management, and base fees.
On the other hand, T. Rowe Price (TROW) is also expected to see EPS of $1.71 in 1Q18 compared to $1.54 in 1Q17. Its revenue is expected to rise 16.2% to $1.3 billion in 1Q18, reflecting growth in base fees.
State Street Advisors (STT) is expected to post EPS of $1.56 and $2.04 in 1Q18 and 2Q18, respectively. The company's major performance drivers have been ETFs, asset servicing, and index-backed offerings.