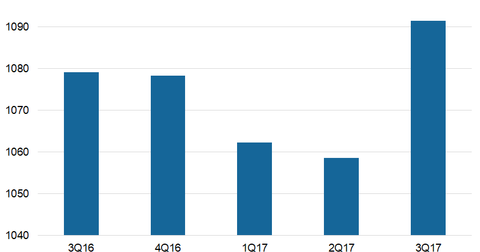 Welltower's 3Q17 Performance and Outlook
By Raina Brown

Jan. 12 2018, Published 7:59 p.m. ET
2017 outlook
Welltower (HCN) increased its SSNOI (same-store net operating income) to 2.5%–3% from 2.25%–3%. This slight increase is due to strong seniors' housing operating performance.
Normalized FFO guidance also increased from $4.19 to $4.25 per share from the previous $4.15 to $4.25 per share. This increase is mainly due to the increase in SSNOI and revised dispositions timing.
Net income for common stockholders reduced from the previous outlook of $853 million–$890 million to $770 million–$792 million. Net income was revised to $2.09 to $2.15 from the previous $2.32 to $2.42 per share due to a slight increase in expenses.
Welltower's estimated revenue for 2017 is $4.26 billion. For peers HCP (HCP), Healthcare Trust of America (HTA), and Ventas (VTR), revenue is estimated at $1.83 billion, $0.611 billion, and $3.5 billion, respectively. Welltower makes up almost 2.59% of the Vanguard REIT ETF (VNQ).
Article continues below advertisement
3Q17 results backed by strong performance
Senior housing operating SSNOI grew 4.1% on a YoY basis. HCN has 423 properties in the same-store operating pool, the highest in the same-store industry, making the growth statistically significant. SS REVPOR (same-store revenue per occupied room) grew 3.9%. Net debt to book capitalization declined to 35.5% from the previous 39.5%. Net debt to adjusted EBITDA also improved to 5.19x from the 3Q16 multiple of 5.65x
The company has combined both the use of triple net and RIDEA (REIT Investment Diversification and Empowerment Act). New assets are structured as RIDEA, while markets where reliable and consistent returns can be earned are under the triple-net portfolio.
In this series, we'll look at Welltower's revenue drivers, macroeconomic factors, valuation, and dividends.