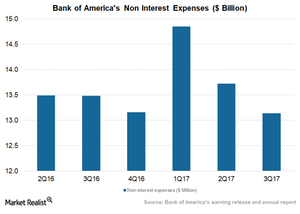 Investments in Technology, Bitcoin, Crypto: Can They Shape 2018?
By Robert Karr

Updated
Technology investments
Major US bankers (XLF) have been focusing on technology-backed solutions for trading, credit cards, investments, and lending over the past few years. But most of them are skeptical when it comes to adopting a technology of printing or digitally created currencies. JPMorgan's (JPM) CEO (chief executive officer) James Dimon has been critical of bitcoin and other cryptocurrencies. Goldman Sachs's (GS) CEO Lloyd Blankfein, however, is open to and might be investing in cryptocurrencies.
Bank of America (BAC) and Berkshire Hathaway (BRK-B) managers share Dimon's views.
Article continues below advertisement
Cryptocurrency
The idea of decentralizing currency printing is what cryptocurrency makers have been advocating. However, without any regulations or watchdog, price movements are wild in that space. Currencies derive their value from the economic performance of a particular country. However, cryptocurrencies are garnering value since they could be an alternative to gold or a reserve currency system.
Berkshire Hathaway's Warren Buffett has argued that cryptocurrencies are not value-creating assets and are thus a bubble. No reserve currency system or gold has seen such an incredible rise in any given period since they were adopted.
Market size
Overall, the market size of cryptocurrencies is ~$550 billion. Bitcoin has garnered ~$250 billion, followed by Ethereum and Ripple. If any US commercial banks decide to enter the market, the risk and reward ratio could be very high. Investments in the space, says Goldman Sachs, could impact revenues and bottom lines in a big way in 2018.