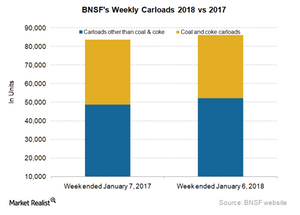 BNSF Railway Started Week 1 with Higher Freight Volumes
By Samuel Prince

Nov. 20 2020, Updated 4:29 p.m. ET
BNSF Railway's railcar traffic
In the week ended January 6, 2018, Berkshire Hathaway–controlled BNSF Railway (BRK-B) reported a low single-digit rise in carload traffic. In the first week of 2018, BNSF's carloads expanded 2.9% to ~86,000 units from ~83,700 units in the corresponding week last year. BNSF Railway's carload traffic contrasted with the fall reported by US railroads in the first week of 2018. When compared with rival Union Pacific (UNP), BNSF's shipments rose.
Article continues below advertisement
A 7.1% rise in carloads other than coal and coke increased the carload traffic for BNSF Railway. These carloads were ~52,200 units compared with ~48,700 units in the first week of 2017. The carloads, excluding coal and coke, were 61% of total carloads in the reported week of 2018. Coal and coke carloads declined 3% to ~34,000 units from ~35,000 units in the first week last year.
Changes in carload commodity groups
BNSF Railway noted a volume rise in the following carload commodity groups:
metallic ores
petroleum products
grain mill products
grain
These commodity groups reported lower volumes in Week 1:
chemicals
motor vehicles
metals
BNSF's intermodal volumes
In Week 1 of 2018, BNSF Railway witnessed a 3.4% rise in intermodal traffic. This dominant Western US rail giant hauled ~84,000 trailers and containers, a decline of ~2,800 units from ~81,300 units in the first week of 2017. It registered a 2.2% rise in container traffic, whereas its trailer volumes rose 13.7% in the beginning week of 2018.
BNSF Railway and Canadian Pacific Railway (CP) were the only Class I railroads (XTN) to report positive overall volume growth in Week 1 of 2018.
Next, we'll assess freight volume data for Union Pacific (UNP).