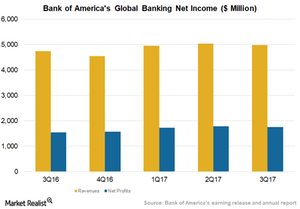 What's Expected for Bank of America's Global Banking in 2018
Global banking's key drivers
Commercial banks (XLF) will likely see subdued credit offtake in the United States due to interest rate hikes and tax rate cuts allowing for higher operating cash flow. However, economies are buoyant, and interest rates are still lower outside the United States. Banks with global exposure could target higher consumer and commercial loans. Bank of America's (BAC) global banking division saw 13% growth in net income to $1.8 billion, helped by higher net interest income and partially offset by lower non-interest income.
The division saw 5% revenue growth due to higher rates and credit offtake. Its net income was supported by lower provisions and strong expense management.
Article continues below advertisement
Interest income
Bank of America's global banking division saw 11% growth in interest income in 3Q17 due to spreads and loan and deposit growth. In 2018, global credit growth is expected to boost core banking. Consumer loans, including credit cards, will likely be key drivers. Bank of America is making huge investments in technology to penetrate different product categories and improve efficiency. The global banking division saw its expenses fall 2% in 3Q17 to $2.1 billion, supported by expense management and partially offset by higher technology investments.
Among major bankers (XLF), Wells Fargo (WFC) has adopted strong expense discipline to lower the impact of subdued credit offtake. JPMorgan Chase (JPM) and Citigroup (C) continue to invest in technology to gain market share in retail and trading.
The global banking division's loans and leases rose by 4% to $346 billion in 3Q17, and its deposits rose 3% to $316 billion. Its return on capital stood at 17.0%, including an additional allocation of $3 billion during the quarter. The division's efficiency ratio improved to 43% in 3Q17 from 45% in 3Q16.