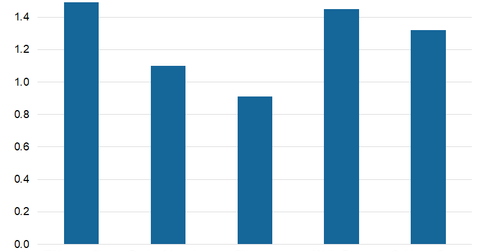 Do Citigroup's Valuations Have Room for Improvement in 2018?
By Robert Karr

Updated
Stock performance amid recovery
Citigroup (C) stock has risen 19.1% over the past six months and 23.8% over the past year. The outperformance in the past couple of quarters helped it command superior returns. The bank is winding down its legacy assets, focusing on core banking, trading, and investment banking activity. Citigroup's global banking exposure gives it a hedge against slowing credit growth in the United States amid rising corporate cash flows and higher interest rates. Select bankers (XLF) have 40%–50% of their revenues tied up outside the United States.
In 3Q17, Citigroup managed 8% growth in net income to $4.1 billion, including a one-time gain. Excluding non-recurring items, its income fell 2% on credit costs.
Article continues below advertisement
Valuations gaining traction
Banks are valued mainly on price-to-book and price-to-adjusted-book multiples. Citigroup is now trading at a price-to-book multiple of 0.96x compared to the industry average of ~1.5x. The stock is trading at a lower multiple due to its slow recovery. However, as the bank speeds up growth and unwinds its legacy assets, it could command higher valuations.
Its peers are trading at the following multiples:
On a one-year forward price-to-earnings basis, it's trading at 12.6x, reflecting stable valuations compared to its peers.
Forward outlook
In fiscal 2018, Citigroup is expected to post EPS (earnings per share) of $5.99, reflecting a 13.2% growth. The bank is expected to report revenues of $74.2 billion, representing a 3.6% rise year-over-year on higher rates, trading rebound, corporate lending, and investment banking growth.