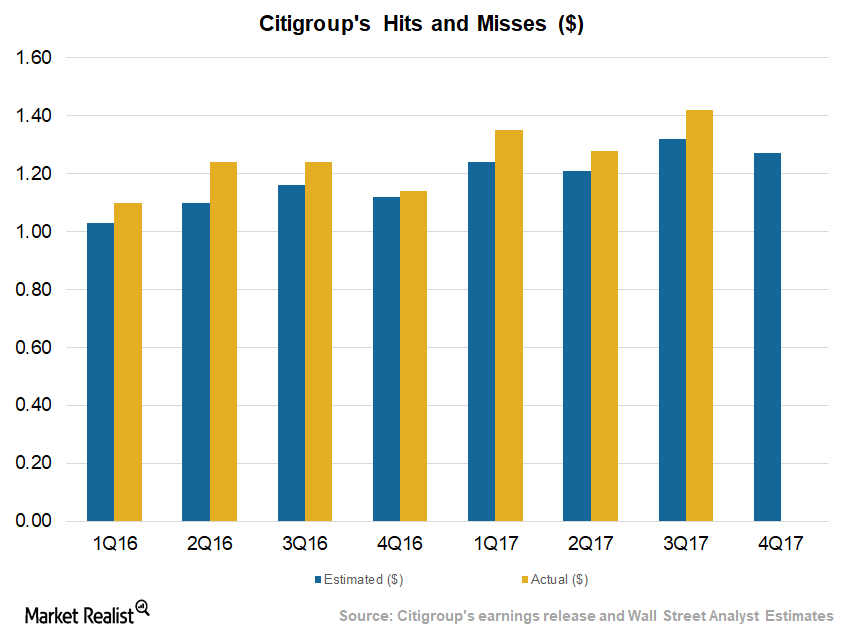 Why Citigroup Could Surprise Investors in 2018
By Robert Karr

Dec. 29 2017, Updated 2:21 p.m. ET
Banking leads
Citigroup (C) has seen a strong revival in recent quarters, driven by its focus on core banking, trading activity, and investment banking. It has benefited from rising interest rates, improving broad markets, and a push for manufacturing in the United States. It's expected to see a sequential decline in 4Q17 due to seasonality. However, overall performance in 2018 is expected to be upbeat, aided by higher interest rates and trading activity. The stock has risen 24% over the past year, reflecting operating growth and higher valuations.
Overall, the industry (XLF) has managed higher net interest income in 2017. JPMorgan (JPM) and Bank of America (BAC) have led the pack, whereas Wells Fargo (WFC) has lagged in terms of growth.
Article continues below advertisement
Recent improvements
Citigroup posted strong numbers in 3Q17, helped by investment banking and core banking revenues. It posted EPS (earnings per share) of $1.42 compared to $1.24 in 3Q16. It exited its fixed income analytics business with a pre-tax gain of $580 million. Its institutional group expanded 8%, whereas consumer banking increased 3% in 3Q17 on a YoY (year-over-year) basis. It continues to wind down its legacy assets, resulting in lower corporate and other earnings. That reflects a continued focus on core businesses and cleaning up its balance sheet from structured products.
Credit offtake 
As interest rates increase, corporations can take the equity route for further investments or reduce their leverage with higher operating cash flows. Citigroup's major challenge could be to increase credit offtake in the upcoming quarters in order to take advantage of higher net interest margins. Its book value was $78.81, a growth of 6%. Its tangibles grew by a similar amount to $68.55.
In this series, we'll be taking a look at Citigroup's credit offtake, strategic initiatives, trading revenues, expected operating performance, and margins. We'll also look at dividends, peer analysis, 2018 outlook, valuation, and analyst ratings.