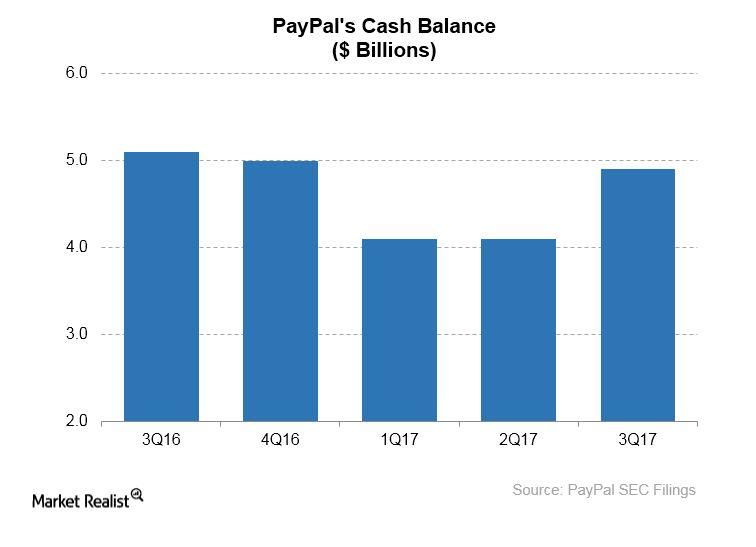 How Does PayPal's Balance Sheet Look?
By Neha Gupta

Nov. 30 2017, Updated 11:56 a.m. ET
Free cash flow rose 36%
A look at PayPal's (PYPL) financial documents from the latest quarter reveals that the company closed 3Q17 with a stronger balance sheet than it started the quarter with thanks in part to solid growth in cash.
PayPal generated $841 million in free cash flow, indicating an increase of 36% YoY (year-over-year). Free cash flow describes the cash amount spared after subtracting capital expenditure from the cash generated from operations. The increase in free cash flow pushed up PayPal's cash balance at the end of 3Q17 to a little over $4.9 billion compared with $4.1 billion at the end of the prior quarter.
Article continues below advertisement
Assets jumped to $37.8 billion
The improvement in cash balance further lifted PayPal's asset base to $37.8 billion, up from $35.3 billion in the prior quarter. The company's total liabilities also rose slightly to $22.3 billion from $20.3 billion in the prior quarter. PayPal closed 3Q17 in a position where it could fully pay off all its outstanding liabilities and have a lot more to spare.
Square's cash balance fell
Square (SQ) finished 3Q17 with $868.4 million in cash, down from $920.3 million in 2Q17. Amazon (AMZN), PayPal's competitors in the digital payments processing space, closed 3Q17 with a cash balance of $24.3 billion, up from $21.5 billion in the prior quarter. LendingClub (LC), a rival of PayPal in the credit business, closed 3Q17 with $384.4 million in cash, down from $538.4 million in the prior quarter.