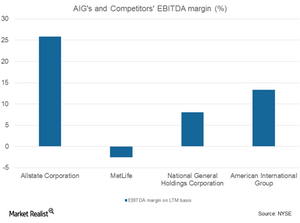 American International Group's Total Expenses Rise in 3Q17
Total expenses rise
American International Group's (AIG) total benefits, losses, and expenses rose a substantial 20% from $12.1 billion in 3Q16 to $14.6 billion in 3Q17. This rise was mainly due to policyholder benefits and losses rising.
In 3Q17, AIG incurred policyholder benefits and losses of $10.3 billion, compared with $7.5 billion in 3Q16, a rise of 38%. Over the last 12 months, AIG has had EBITDA (earnings before interest, tax, depreciation, and amortization) margin of 13.3%. To compare, peers (XLF) Allstate (ALL), MetLife (MET), and National General Holdings (NGHC) have had margins of 25.8%, -2.5%, and 8.1%, respectively.
Article continues below advertisement
Other components
AIG reduced its general operating and other expenses by 15% from $2.5 billion in 3Q16 to $2.1 billion in 3Q17. The company also managed to reduce its interest expenses, from $329 million in 3Q16 to $290 million in 3Q17, a fall of 12%. This fall was mainly due to a reduction in interest expenses for which AIG acted as a guarantor, from $249 million in 3Q16 to $236 million in 3Q17.
However, in 3Q17, AIG also incurred a net loss amounting to $13 million from the sale of divested businesses. In 3Q17, AIG credited interest amounting to $867 million policyholders' accounts, compared with $887 million in 3Q16, reflecting a fall of 2%.