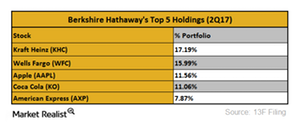 Why Does Buffett Still Have Faith in Wells Fargo after the Scandals?
By Sarah Sands

Nov. 20 2020, Updated 5:32 p.m. ET
Buffett on Wells Fargo
In his recent CNBC interview, billionaire investor Warren Buffett shared his view on Wells Fargo (WFC), stating that he still believes in Wells Fargo and CEO (chief executive officer) Timothy J. Sloan.
Wells Fargo has been dealing with a huge fake account scandal in recent months. Due to this, it removed many employees who were involved, and the stock's price showed a huge fall in performance, declining nearly 12.4% between March 13, 2017, and April 10, 2017.
But Buffett stated: "Somebody messed up, and the job is to find out who messed up…When you find a problem, you have to jump on it."
According to Buffett, 99% of the people working for Wells Fargo during the time of the scandals were likely decent people—just like the employees working for Bank of America (BAC) or Goldman Sachs (GS).
Article continues below advertisement
Buffett's position in Wells Fargo
Buffett's Berkshire Hathaway (BRK-B) is the largest investor in Wells Fargo, with a 9.4% stake, holding nearly 467.9 million shares as of June 30, 2017. In fact, Wells Fargo is the second-largest holding in Berkshire Hathaway's portfolio, representing nearly 16.0% of the portfolio in 2Q17.
In 2Q17, Berkshire Hathaway's top buyings were Bank of New York Mellon (BK), Synchrony Financial (SYF), Liberty Media (LSXMK), STORE Capital (STOR), and General Motors (GM).
| | | | | | | | | | |
| --- | --- | --- | --- | --- | --- | --- | --- | --- | --- |
|   | Detect languageAfrikaansAlbanianArabicArmenianAzerbaijaniBasqueBelarusianBengaliBosnianBulgarianCatalanCebuanoChichewaChinese (Simplified)Chinese (Traditional)CroatianCzechDanishDutchEnglishEsperantoEstonianFilipinoFinnishFrenchGalicianGeorgianGermanGreekGujaratiHaitian CreoleHausaHebrewHindiHmongHungarianIcelandicIgboIndonesianIrishItalianJapaneseJavaneseKannadaKazakhKhmerKoreanLaoLatinLatvianLithuanianMacedonianMalagasyMalayMalayalamMalteseMaoriMarathiMongolianMyanmar (Burmese)NepaliNorwegianPersianPolishPortuguesePunjabiRomanianRussianSerbianSesothoSinhalaSlovakSlovenianSomaliSpanishSundaneseSwahiliSwedishTajikTamilTeluguThaiTurkishUkrainianUrduUzbekVietnameseWelshYiddishYorubaZulu |   | AfrikaansAlbanianArabicArmenianAzerbaijaniBasqueBelarusianBengaliBosnianBulgarianCatalanCebuanoChichewaChinese (Simplified)Chinese (Traditional)CroatianCzechDanishDutchEnglishEsperantoEstonianFilipinoFinnishFrenchGalicianGeorgianGermanGreekGujaratiHaitian CreoleHausaHebrewHindiHmongHungarianIcelandicIgboIndonesianIrishItalianJapaneseJavaneseKannadaKazakhKhmerKoreanLaoLatinLatvianLithuanianMacedonianMalagasyMalayMalayalamMalteseMaoriMarathiMongolianMyanmar (Burmese)NepaliNorwegianPersianPolishPortuguesePunjabiRomanianRussianSerbianSesothoSinhalaSlovakSlovenianSomaliSpanishSundaneseSwahiliSwedishTajikTamilTeluguThaiTurkishUkrainianUrduUzbekVietnameseWelshYiddishYorubaZulu |   |   |   |   |   |   |
Text-to-speech function is limited to 200 characters