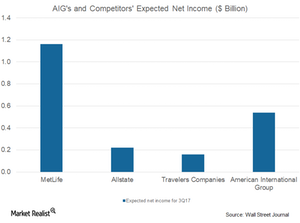 Understanding AIG's Reshuffling and Technology Initiatives
Three units
Brian Duperreault, chief executive officer of American International Group (AIG), has taken a major step by reshuffling the company into three units. According to Duperreault, the older units—consumer and commercial—won't be working separately. The life and retirement unit will be led by Kevin Hogan, who used to lead the company's consumer insurance segment. The other two units, general insurance and technology, will be led by Peter Zaffino and Seraina Macia, respectively.
Article continues below advertisement
Technology: A key priority
AIG reorganized in order to expand its business in the long term. It's leaning toward technology for long-term growth and success.
According to Duperreault, innovation and technology are important in the insurance industry and should help AIG compete with its competitors. Long-term growth with the help of technology initiatives could help AIG outperform other insurance players in the industry.
The company's top management plans to deploy capital for future expansion purposes while maintaining its focus on returning capital to its shareholders.