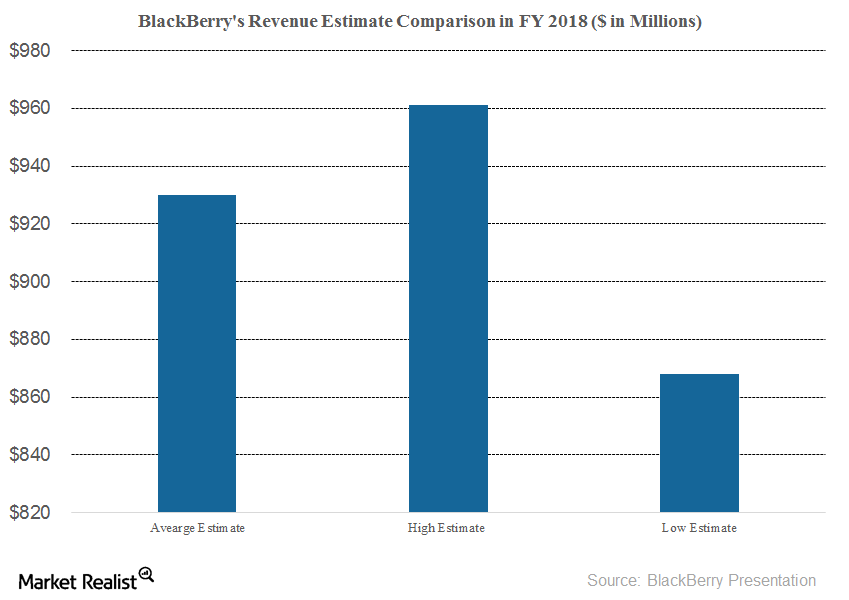 How BlackBerry Views Fiscal 2018
By Adam Rogers

Aug. 18 2020, Updated 6:13 a.m. ET
Non-GAAP revenue between $920 million and $950 million
BlackBerry (BBRY) expects non-GAAP (generally accepted accounting principles) revenue between $920 million and $950 million in fiscal 2018. We've seen that Software and Services revenue is expected to grow between 10% and 15% YoY (year-over-year) in fiscal 2018. Earlier this year, a binding arbitration ruling had Qualcomm (QCOM) pay BlackBerry $815 million plus interest and attorneys' fees over licensing disputes.
This ruling suggests free cash flow for fiscal 2018 will be positive. Operating expenses in fiscal 2Q18 rose to $161 million from $149 million in fiscal 2Q17. Operating expenses are expected to rise slightly in fiscal 3Q17 as well, driven by an increase in sales and marketing expenses.
What do analysts expect from BlackBerry in fiscal 2018?
Article continues below advertisement
Analysts expect BlackBerry to post revenues of ~$217.12 million for the quarter ending in November 2017, with a high revenue estimate of $227.89 million and a low estimate of $206.3 million. If BlackBerry meets analysts' estimate of ~$217.12 million, it would mean a YoY (year-over-year) fall of 27.9%, compared with revenues of $301 million in fiscal 2Q17.
Analysts expect the company's revenue to fall 23.36% YoY to $226.78 million in fiscal 4Q18 and 32.3% YoY to $929.81 million in fiscal 2018. Earnings per share (or EPS) are expected to be $0.00 in fiscal 3Q18, down from $0.02 in fiscal 3Q17. For fiscal 2018, EPS is expected to be $0.06.