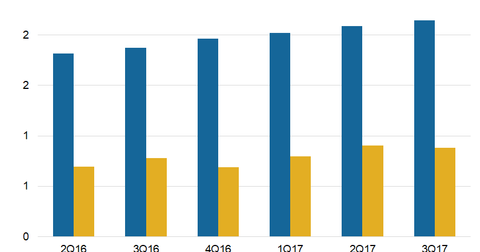 How Core Banking Benefits JPMorgan Chase and Other Bankers
By Robert Karr

Updated
Commercial banking
JPMorgan Chase's (JPM) Commercial Banking division posted revenues of ~$2.2 billion in 3Q17, compared to ~$1.9 billion in 3Q16 and ~$2.1 billion in 2Q17. This revenue growth was driven by higher lending, rising rates, improved middle-market banking, corporate banking, and real estate banking.
Revenues for the division grew 15% to ~$2.2 billion, whereas its net income expanded 13% to $881.0 million mostly due to lower credit benefit in 3Q17. The division has seen strong traction among corporates, retail clients, and higher lending due to the improved business environment.
JPMorgan Chase's Commercial Banking division reported 10% YoY growth in loan balances to $200.0 billion. It reported 13% growth for the Commercial and Real Estate group and 8% growth for the Commercial and Industrial division. The division's client deposits grew 1% on a YoY basis to $176.0 billion.
Article continues below advertisement
Stable RoE
JPMorgan Chase's Commercial Banking division saw net income of $881.0 million in 3Q17, compared to $778.0 million in 3Q16 and $902.0 million in 2Q17. The division's return on equity remained stable at 17% when compared to the previous quarter. Its expenses rose 7% to $800.0 million, reflecting strong expense management and a rise in margins due to rate hikes.
The Federal Reserve has indicated three rate hikes in 2018, which should aid the expansion of margins for banks. However, it could impact credit offtake if returns on investments start to stabilize or decline. The division's overhead ratio fell to 37 from 40 in 3Q16.
Bankers are seeing some slowdown in real estate lending due to rate hikes. However, corporates are borrowing more to support expansion plans.
Commercial bankers (XLF) such as Bank of America (BAC), Citigroup (C), and Wells Fargo (WFC) have reported higher operating margins on rate hikes and investment banking revenues.