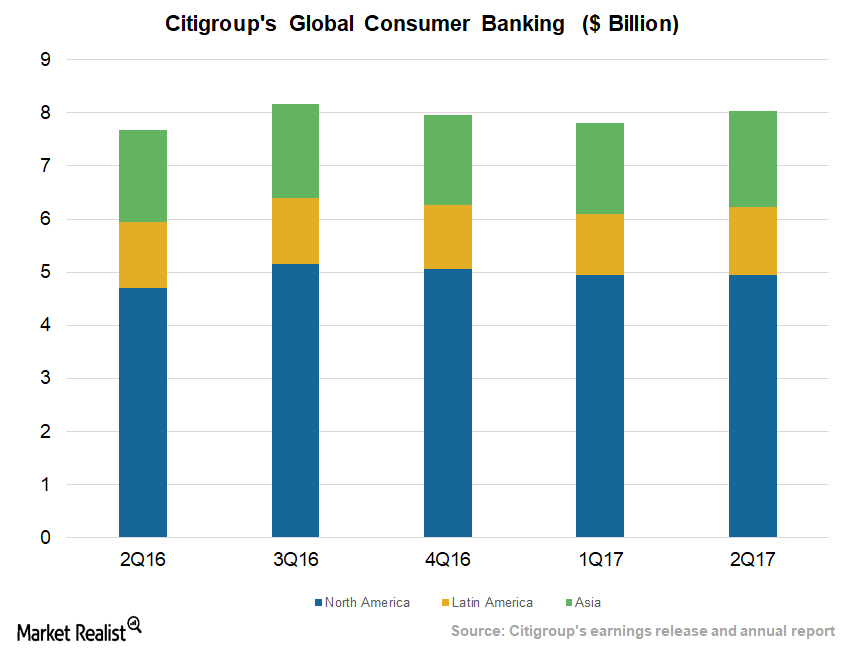 Why Citigroup's Global Consumer Banking is Garnering High Growth
By Robert Karr

Sep. 22 2017, Updated 9:07 a.m. ET
Global consumer banking
Citigroup's (C) consumer banking garners growth from lending, credit card penetration, and service fees across the Americas, Europe, and Asia. The bank has expanded its loan book and focused on core banking as yields grow due to rate hikes. As of June 30, 2017, the bank had retail loans and deposits of $142 billion and $307 billion, respectively, reflecting 1% and 3% growth YoY (year-over-year). The growth in deposits is expected to continue in 2H17. However, lending to high-quality corporates is facing significant competition due to liquidity availability. In 2Q17, Citigroup saw 15% growth in average card loans to $152 billion. The bank is expected to see marginal growth for its credit offtake on a sequential basis.
Article continues below advertisement
Citigroup's Global Consumer Banking division managed a 5% rise in total revenue to $8.0 billion in 2Q17, helped by a 5% rise in North America and a 4% rise in Latin America and Asia. The bank has seen high growth from credit cards and retail services in North America, which was partially offset by lower mortgages due to higher rates. As the Fed is eyeing another rate hike in 4Q17, mortgage revenue is expected to remain subdued in 2H17.
Globally, Citigroup is garnering high single-digit growth in Latin America and marginal growth in Asia, helped by core banking and credit cards. Asia has also seen improved demand for Citigroup's wealth and investment banking offerings.
Why its net income is declining
Citigroup's global consumer banking saw a 12% fall in net income in 2Q17, largely due to high credit costs and partially offset by improved efficiency. Once legacy assets' winding down is over, the bank is expected to post good bottom-line growth as well. Its performance will be largely in line with that of major bankers (XLF) Bank of America (BAC), JPMorgan Chase (JPM), and Goldman Sachs (GS).