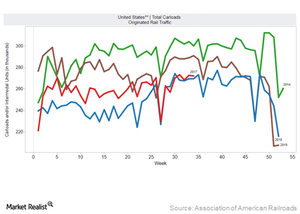 US Rail Freight Traffic Kept Running on Elevated Tracks in Week 34
By Samuel Prince

Updated
US rail freight volumes
On August 23, 2017, the Association of American Railroads (or AAR) released its weekly North American rail freight (BRK-B) data for the week ended August 26, 2017, or week 34. During that week, the overall US rail freight traffic along with intermodal rose 2.3% to ~552,000 units compared with over 539,500 units in the week ended August 27, 2016.
In the 34th week of 2017, US railcar traffic rose marginally by 1% to 272,000 plus units compared with ~269,500 railcars in the corresponding week last year. The US railroad intermodal traffic expressed in trailers and containers expanded 3.6% on a year-over-year basis. The figure was ~280,000 units in week 34 compared with around 270,000 units in the same week last year.
Article continues below advertisement
Statistics for first 34 weeks
For the cumulative 34 weeks of 2017, US rail carriers (XLI) reported ~8.8 million railcars, up 4.9% compared with the same period last year. These railroads' intermodal volumes were ~9.0 million units, up 3.4% on a year-over-year basis.
On a combined basis, US rail freight traffic for the first 34 weeks in 2017 was 17.9 million railcars and intermodal units, which translates into a rise of 4.1% compared with the first 34 weeks last year.
Canadian and Mexican railroad volumes
In week 34 of 2017, Canadian railroads (CP) (CNI) reported strong growth in overall volumes. The railcars were up 15.2% to ~82,500 units compared with the levels in week 34 of 2016. The Canadian railroads' intermodal units were ~71,000 containers and trailers, up 10.6% on a year-over-year basis.
The railcar traffic of Mexican railroads was 17,000 plus carloads in the reported week, up 7.2% compared with last year's week 34. The intermodal volume was up 10.6% to ~12,600 units in the week ended August 26, 2017.
In the coming part, we'll discuss Norfolk Southern's (NSC) freight volumes.