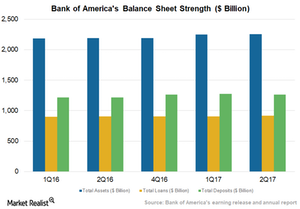 How Bank of America Could Augment Its Loan Book
By Robert Karr

Sep. 4 2017, Updated 10:37 a.m. ET
Credit offtake key
Commercial bankers (XLF) rallied over the past couple of years on strong growth in credit across corporate and retail products, supported by rate hikes, improving equities, trading, and asset management revenues. However, as rate hikes reach the targeted number and corporations generate strong liquidity, credit offtake could be the key driver for the next leg of growth. Bank of America's (BAC) loan book grew to $917.0 billion on June 30, 2017, compared to $903.0 billion in the prior year and $903.0 billion in 1Q17.
Article continues below advertisement
Bank of America is carrying total assets of ~$2.3 trillion as of June 30, 2017, compared to ~$2.2 trillion in the prior year, driven by higher deposits and lending activity. The deposits are expected to rise further in 3Q17 with a marginal growth in credit offtake. BAC has an improved common equity Tier 1 ratio of 11.6% compared to 10.6% in the previous year. This trend reflects lower provisions for losses and improved asset quality.
Well-placed for expansion
Bank of America has seen a steady rise in its core banking business, with trading seeing a marginal fall in 2Q17 due to lower volatility and assets. Core banking rose in 2Q17 on rising interest rates, higher net interest margins, and credit offtake for consumers and commercial customers.
Bank of America managed deposits totaling ~$1.3 trillion on June 30, 2017, compared to ~$1.2 trillion as of June 30, 2016. The bank sold its non-US credit card business, realizing an after-tax gain of $103.0 million in the quarter. The bank's balance sheet places it well for future expansion across the divisions as well as regions.