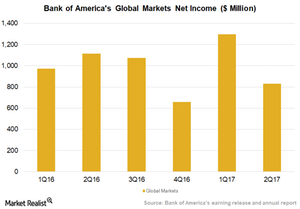 Could Bank of America's Trading Activity Rebound in 3Q and 4Q?
By Robert Karr

Sep. 4 2017, Updated 9:07 a.m. ET
Trading activity to rebound
Could Bank of America's (BAC) trading activity rebound in 3Q17 after subdued performance in the previous quarter? Some believe it could due to its lower volatility and declining equities. However, equities have risen again with higher volatility and more deployment toward equities in recent months. The bank's Global Markets saw a fall of 25.0% in net income to $830.0 million in the second quarter, mainly due to lower revenues, higher provisions, and non-interest expenses. Its revenues fell 8.0% to $3.9 billion, mostly due to lower sales and trading revenues.
The division's 2Q17 interest income also fell to $864.0 million from $1.1 billion due to lower brokerage assets. Its 2Q17 non-interest income fell to $3.1 billion from $3.2 billion in the prior year.
Bank of America's major banking competitors (XLF) Goldman Sachs (GS), JPMorgan Chase (JPM), and Citigroup (C) are also expected to see marginal rebounds in 3Q17 as the markets stabilize.
Article continues below advertisement
Technology investments
Bankers are deploying huge sums of money toward improved software for trading and automatic trading for retail investors alongside institutional offerings. The investments have led to higher efficiency, more trades, and ease of activity in recent years. BAC's Global Markets division's spending rose to ~$2.7 billion in 2Q17 compared to ~$2.6 billion in the prior year, mostly due to investments in technology. These expenses were partially offset by improved operating efficiency across the divisions.
BAC's Global Banking managed trading-related assets of $452.6 billion compared to $411.3 billion in the prior year. This trend reflected continued deployment toward trading activity. The division's ROE (return on equity) remained stable at 12.0% in 2Q17.
The Global Markets division saw a fall in trading activity of 14.0% in fixed income, currencies, and commodities, mainly due to a weaker performance of rates and emerging markets. However, equities rose 3.0% in spite of subdued performance in the markets.