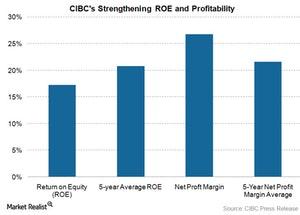 How Canadian Imperial Bank Takes Advantage of Switching Costs
By VanEck

Sep. 25 2017, Updated 11:04 a.m. ET
VanEck
Canadian Imperial Bank of Commerce (CM CN) is the fifth largest bank in Canada and boasts 11 million clients. CIBC's business spans retail and business banking, wealth management, and capital markets, and is more domestically Canada-focused than some of its global peers. Morningstar gives CIBC a "narrow economic moat" rating because the bank is not the leader for Canadian banking operations, which limits some of its cost advantages. Morningstar believes that bank moats are typically derived from cash advantages and switching costs: "We think switching costs in the Canadian system are driven by a tightly regulated oligopolistic market structure that limits excess competition, stabilizing product pricing, and giving customers less incentive to switch banks."
Article continues below advertisement
Market Realist
How CIBC gained a competitive edge
Canadian Imperial Bank of Commerce (CM), also known as CIBC, through its retail and business banking, wealth management, and capital markets business units, operates as a diversified financial institution in Canada and internationally. CIBC is a part of the "Big Five" banks that dominate the banking industry in Canada. The other four players are Royal Bank of Canada (RY), Toronto-Dominion Bank (TD), The Bank of Nova Scotia (BNS), and the Bank of Montreal (BMO).
Strict regulations and lending standards in the banking industry have set up an oligopoly in Canada, so there is limited competition in the banking sector with less threat of new entrants and the "Big Five" banks capturing most of the market. In an oligopoly market structure, switching costs are higher for consumers and have helped CIBC obtain a narrow economic moat (MOTI).
Unlike the other four major Canadian banks, CIBC's exposure is more limited to Canada. However, because of the oligopoly market structure, the company has managed to build a competitive edge for itself while growing revenue and earnings. The chart above shows CIBC's strengthening return on equity (or ROE) and its net profit margin.  The company's current ROE is 17.3%, compared to its five-year average of 20.8%. Meanwhile, its net profit margin of 26.8% is higher than its five-year average of 21.6%. The company's revenue growth has also been robust over the years.
With its blistering growth potential and competitive advantage, CIBC has managed to reward shareholders with consistent dividend payment over the years. To further establish its footprint internationally and grow its earnings, the company acquired Atlantic Trust Private Wealth Management for $210 million last year. In 2017, CIBC acquired PrivateBancorp for $5 billion. The company also plans to buy Geneva Advisors, a wealth management firm based in Chicago, by its fiscal 4Q17.