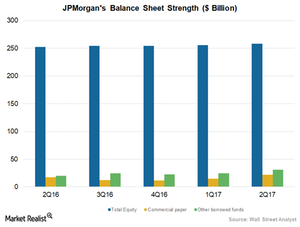 Assessing JPMorgan Chase's Balance Sheet in 2017
By Robert Karr

Sep. 20 2017, Updated 6:36 a.m. ET
Balance sheet strength
JPMorgan Chase (JPM) has managed a relative outperformance after the 2007 financial crisis, largely due to its risk management policies and lower leverage. The bank has continued to focus on its core banking operations, credit card, asset management, and trading businesses.
JPM's total assets grew to $2.56 trillion as of June 30, 2017, compared with $2.47 trillion at the end of 2Q16. The bank's deposits saw 8% growth in 2Q17, while loans grew 4%, reflecting a marginally slower credit offtake. It has deployed excess cash reserves with other banks, resulting in 24% growth to $427 billion.
Article continues below advertisement
Yields, paper, and leverage
Although JPM is trending on lower leverage, its commercial paper and other borrowed funds rose 29% and 55%, respectively, in 2Q17. The bank's commercial paper borrowing in 2Q17 stood at $22 billion, and other borrowed funds stood at $31 billion.
Overall, the 33% rise in JPM's Treasury shares indicates that rising buybacks over the past few quarters could reward shareholders going forward. Notably, major banking peers (XLF) including Citi (C), Wells Fargo (WFC), and Bank of America (BAC) have also increased their buyback programs in recent quarters.
JPM's interest-earning assets commanded yield of 2.95% in 2Q17, compared with 2.73% in 2Q16, reflecting the impact of the Fed's rate hikes. The yield on liabilities rose 0.79% from 0.60% in 2Q16. The net yield on interest-earning assets has increased marginally to 2.31% in 2Q17, up from 2.25% in 2Q16. The bank's tier-1 ratio under advanced transitional metrics improved to 14.5% in 2Q17, up from 13.6% in 2Q16, largely due to marginal growth in risk-weighted assets, which reflects strong asset quality.