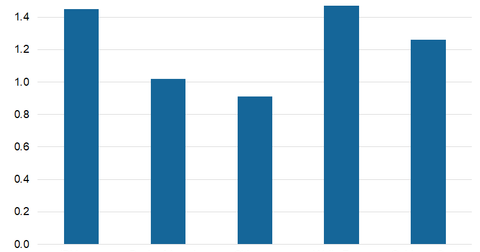 Why the Market Has Been Repricing Citigroup
By Robert Karr

Updated
Outperforming stock
Citigroup (C) stock has appreciated 22.3% over the past six months and 50.7% over the past year due to a revival in its operating performance, higher net interest margins, an expanding loan book, and higher investment banking revenues.
By comparison, commercial banks (XLF) overall have seen an 8.1% rise over the past six months. Citigroup saw a 2.5% fall in its net income to $3.9 billion in 2Q17, mainly due to the higher cost of credit and spending. Its EPS (earnings per share) rose to $1.28, compared with $1.24 in 2Q16, mainly due to consistent buybacks over the past year.
Article continues below advertisement
Improving relative valuations
Commercial banks (IYF) are valued at price-to-book and price-to-adjusted-book multiples. Their balance sheet items are mostly liquid and at market value. Citigroup is now trading at a price-to-book-multiple of 0.91x, compared with the industry average of 1.30x.
The discount has narrowed in recent months, mainly due to Citigroup's relative outperformance, focus on core banking business, divestitures, and the winding down of legacy assets. Its peers are trading at the following multiples:
Expectations for 2017
For 2017, Citigroup is expected to post EPS of $5.23, reflecting a growth of 10.8% and an implied price-to-earnings ratio of 11.58x. The bank is expected to report revenues of $71.5 billion, representing a 2.3% rise on a year-over-year basis.
To be sure, Citigroup is banking on a leaner business model, a focused approach to commercial and investment banking, and trading activity in its effort to expand its operating margins and business over the next few years.