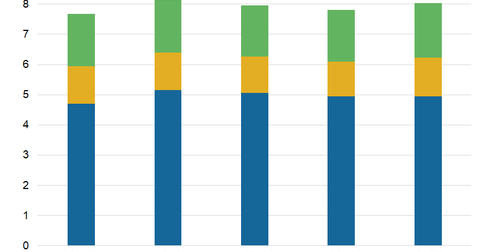 Is Citigroup's Focus on Core Banking Yielding Results?
By Robert Karr

Aug. 11 2017, Updated 6:36 a.m. ET
Expanding loan book
Citigroup (C) has expanded its loan book in recent months on the back of the improved business environment and fundamentals in the Americas and Asia. The bank was managing retail loans and deposits of $142 billion and $307 billion, respectively, on June 30, 2017. These numbers reflect 1% and 3% growth, respectively, on a YoY (year-over-year) basis.
Citigroup has also seen a strong 15% growth in average card loans to $152 billion as of June 30, 2017. Citigroup is expected to see marginal growth for its credit offtake on a sequential basis.
In 2Q17, Citigroup's Global Consumer Banking division managed a 5% rise in total revenues to $8.04, billion helped by a 5% rise in North America and a 4% rise apiece in Latin America and Asia. Citigroup's North American business benefited from credit card and retail services, partially offset by lower mortgage and retail banking revenues.
The bank has seen growth across it product offerings, but these have been partially offset by a decline in mortgage revenues. As the Fed is gearing up for another rate hike in 4Q17, mortgage revenues are expected to remain subdued.
Citigroup's Global Banking business grew 4% to $3.1 billion, helped by 8% growth in Latin America and 3% growth in Asia, driven by lending, deposits, and credit card loans. Asia has also seen improved traction for Citibank's wealth and investment banking offerings.
Credit costs high
Rising credit costs amid an improving operating performance have dented Citigroup's profitability. Its Global Consumer Banking division has seen its net income fall 12% in 2Q17, but costs have stabilized and are reflecting a reversal in trend.
The division posted net income of ~$1.1 billion in 2Q17, compared to $1.00 in 2Q16. Citigroup's major banking competitors (XLF) JPMorgan Chase (JPM), Wells Fargo (WFC), and Bank of America (BAC) have seen relatively high credit expansions and lower credit costs.
Citigroup's average card loans stood at $152 billion on June 30, 2017, compared with $132 billion on June 30, 2016, reflecting strong growth across regions in terms of spending.
Article continues below advertisement