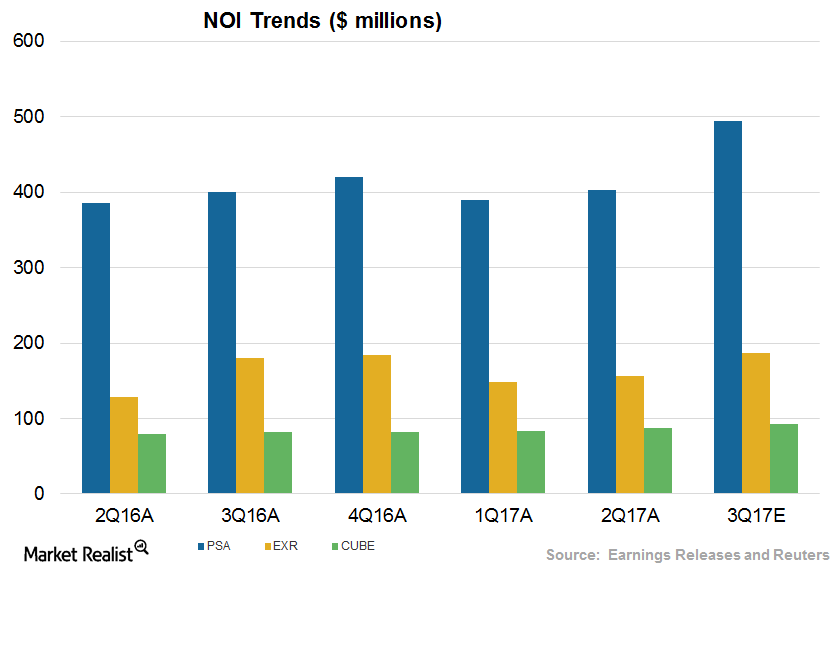 How the Top 3 Self-Storage REITs Managed Their Expenses in 2Q17
By Jennifer Mathews

Aug. 25 2017, Published 9:32 p.m. ET
The landscape of the sector
Self-storage REITs undertake several strategic initiatives in order to boost sales. These initiatives include expansion and acquisition activities as well as regular property maintenance and repair.
These REITs fund their working capital with via prudent management of equity and debt. Self-storage REITs also strategically dispose of their non-performing assets in order to maximize profit.
Let's see how the top three self-storage REITs—Public Storage (PSA), Extra Storage (EXR), and CubeSmart (CUBE)—managed their expenses during 2Q17.
Article continues below advertisement
Income and expenses in 2Q17
Public Storage (PSA) reported a $16.3 million increase in net operating income (or NOI), backed by higher same-store facilities. While same-store facilities contributed $10.2 million to the hike in NOI, non-same-store facilities contributed a $6.1 million gain to its NOI. The company has acquired, developed, or expanded 292 facilities since January 2015, which contributed to the increase in non-same-store NOI during the quarter.
Extra Space Storage's same-store NOI increased 7.7% to $155.8 million, backed by lower operating expenses. Its same-store operating expenses fell to $57.8 million compared to $58.5 million in 2Q16. Its NOI also increased due to higher revenues of 5.2% during the quarter.
CubeSmart reported same-store NOI growth of 5% year-over-year, encompassing 432 stores with 25.9 million rentable square feet. This upswing in income followed 4.2% revenue growth, which offset a 2.5% increase in operating expenses.
Outlook for fiscal 2017
Although Public Storage did not provide any guidance for net operating income expected during fiscal 2017, analysts expect the company to report flat YoY NOI of ~$2.0 billion during 2Q17. EXR and CUBE are also expected to report flat NOI of $732.2 million and $350.6 million, respectively.
The iShares Trust – iShares Residential Real Estate Capped ETF (REZ) has 100% exposure to REITs. EXR, PSA, and CUBE, and Equity Residential (EQR) comprise 22% of the holdings of this ETF. REZ has an expense ratio of 0.48%.
In the next article, we'll have a look at the capital deployment strategy of the three REITs.