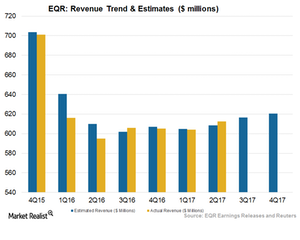 Why Equity Residential's Top Line Soared in 2Q17
Robust 2Q17
Equity Residential's (EQR) top line in 2Q17 surpassed both the year-ago results as well as management's expectations on rent growth.
REITs have been thriving in the industrial segment due to the record high level of rent growth for the past few years. Rent growth moderated in the second half of 2016 after residential property owners increased their supply by increasing housing starts. However, the supply is still far behind the demand, especially in Class A cities. As a result, the rent has remained at high levels in high-barrier, high-demand cities.
Article continues below advertisement
Equity Residential has maintained a modest rent growth trend. Its strategic placement in six coastal markets in Washington, DC, New York, Southern California, Boston, Seattle, and San Francisco has been a winning strategy, and its development activities have helped it maintain higher demand for its properties. Occupancy remained almost flat during the quarter. The average rent rate went up 2.5% during the quarter.
Rent growth expected to moderate
Equity Residential updated its revenue and occupancy guidance for fiscal 2017. Management now expects physical occupancy to stand at 95.8% compared to the 95.7% expected earlier. Equity Residential expects revenue to go up in a range of 1.8% to 2.3% compared to the 1% to 2.3% expected previously.
AvalonBay Communities (AVB), Camden Property (CPT), and Essex Property (ESS) are expected to report revenue of $529.1 million, $222.7 million, and $334.8 million, respectively, for 2Q17.
Equity Residential and its peers form almost 9% of the Vanguard REIT ETF (VNQ), which has a wide product portfolio covering industries like healthcare, self storage, and residential REITs. VNQ has a net asset value of $81.2 million.