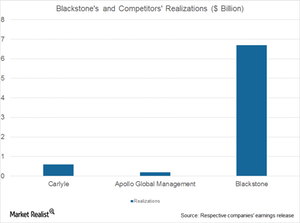 Why Blackstone's Real Estate Division Is Targeting Europe
By Raymond Anderson

Updated
Chunks of money coming in
Blackstone's (BX) real estate division has bright prospects in 2017. As more rate hikes are expected from the Fed in 2H17, we could see decreasing valuations for real estate companies. Decreasing valuations could, in turn, lead to a rise in acquisitions. In 2H17, Blackstone is expected to make more deployments in their real estate segment. In June 2017, the company made a big move in its real estate division by selling Logicor to China Investment Corporation. This deal is expected to fetch $13.75 billion for Blackstone, making it the biggest real estate transaction in European history.
Article continues below advertisement
In Europe, Blackstone recently closed the financing of its new real estate fund. After strong numbers from Blackstone (BX), we can see that the company's real estate segment is the major contributor to its outstanding growth. In the coming quarters, the company is expected to focus on Europe, as there are chances that the company will announce another sale in the European continent. Management has a positive outlook on distributable earnings for the coming quarters on the back of its core plus real estate fund. In 2H17, the core plus real estate fund should start generating cash incentive fees.
Realizations exceeding deployments
In 1Q17, Blackstone's (BX) real estate division amounted to realizations of $6.7 billion, which is mainly due to the company's decision of unloading its 25% stake in Hilton (HLT). These realizations also include the realization of $1.8 billion through an initial public offer or IPO for Invitation Homes. In 1Q17, the company deployed $2.7 billion, which includes investment in OfficeFirst. As of March 31, 2017, alternative asset managers (XLF) reported the following realizations in their real estate divisions.