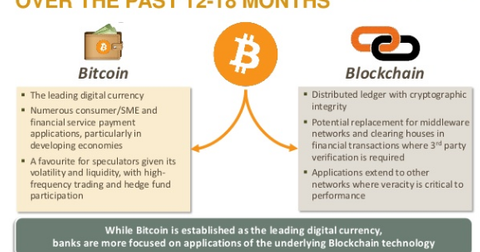 Inside IBM's New Blockchain-Based Platform
By Anne Shields

Updated
IBM's blockchain-based platform for European banks
So far in the series, we discussed the impact of Petya on various countries and their employment of bitcoin to extract ransoms. In this part of our series, we'll discuss how leading technology companies are rapidly investing in blockchain technology, which is considered to be a disruptive technology and is the foundation of bitcoin, the world's first decentralized digital currency.
Recently, IBM (IBM) announced that it would be building a blockchain-based platform for seven prominent European (EFA) banks: Deutsche Bank, HSBC, Rabobank, KBC, Natixis, Societe Generale, and Unicredit. These banks formed a Digital Trade Chain Consortium in January 2017 to bridge the financing gaps impacting domestic as well as cross-border trade for SMB (small and medium enterprises) in Europe.

IBM's new platform is expected to be functional by late 2017 and would simplify financial transactions for these SMB's and help them enhance transparency across overall trade transactions. Goldman Sachs (GS), JPMorgan Chase (JPM), and CME Group are also investing heavily in blockchain technology.
You can read Market Realist's Why IBM Its Peers, and Banks Are Moving toward Blockchain to know more. Notably, Microsoft (MSFT) has partnered with R3CV to delve deeper into blockchain technology.
Article continues below advertisement
IBM's blockchain-based Platform holds a record
This project marks "one of the first real-world use cases of blockchain technology for financial institutions," according to SeekingAlpha.
IBM's focus on blockchain technology is in sync with its aims to widen the realms of its Strategic Imperatives segment to seek revenue growth. Despite consistent growth in this segment, fiscal 1Q17 result marked IBM's 20th-straight quarter without overall revenue growth.