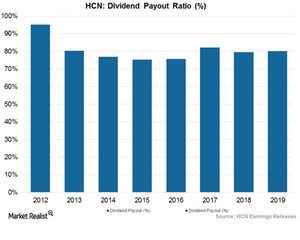 How Well Does Welltower Return Value to Its Shareholders?
By Jennifer Mathews

Jul. 18 2017, Updated 9:06 a.m. ET
Dividends are important for REITs
Healthcare real estate investment trusts (or REIT) such as Welltower (HCN), HCP (HCP), Healthcare Trust of America (HTA), and Ventas (VTR) have to pay at least 90% of their taxable incomes as shareholder returns in order to function as REITs. This setup allows them to enjoy several tax benefits.
REITs depend on their rental incomes to fund shareholder returns in the form of dividends and share buybacks. This practice provides them with reliable and predictable fund flows.
The Vanguard REIT ETF (VNQ) has a market cap–weighted index with a wide product portfolio covering industries such as healthcare, self-storage, and residential REITs. VNQ has an annual yield of 4.1%.
Article continues below advertisement
Consistent dividend payments
Welltower has been paying dividends to its shareholders consistently in every quarter since it became a public company in 2009. Welltower increased its quarterly cash dividend to $0.87 per share (an annual dividend of $3.48 per share) starting in February 2017, compared to $0.86 per share (an annual dividend $3.44 per share) in 2016. Its recently declared 1Q17 dividend represents its 184th consecutive quarterly dividend payment. The company raised its dividend 4.2% from $0.83 to $0.86 in January 2016.
The company has maintained a consistent dividend yield over the last two years. The company's dividend yield was 4.9% in 2015 and 5.1% in 2016. Analysts expect Welltower to maintain dividend yields of 4.7%, 4.8%, and 5.1%, respectively, in 2017, 2018, and 2019.
FFO payout ratio
Welltower's FFO (funds from operations) give us an idea of the shareholder returns on a particular stock. Its FFO payout ratio is measured as the ratio of its dividend per share to its diluted FFO per share for a given period.
HCN's FFO payout ratio was 82.8% in 1Q17. Its expected payout ratios for the next four quarters are 82.1%, 82.1%, 81.3%, and 78.7%, respectively, for 2Q17, 3Q17, 4Q17, and 1Q18. The chart above shows the estimated dividend payout trend for the next four years.
Welltower hasn't made any share buybacks in 2016.
Peer group
If we consider other REITs by comparing FFO payout ratios, we'll find that Welltower's payout ratio is in line with those of its competitors. Welltower, HCP, Healthcare Trust of America, and Ventas offered FFO payout ratios of 76%, 76%, 75%, and 72%, respectively, in 2016.
In the next article, we'll find out how HCN is performing in terms of leveraging its debt.