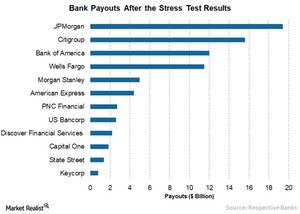 Financials Overview for the Week of June 26–30, 2017
By Peter Barnes

Dec. 4 2020, Updated 10:53 a.m. ET
Fed approves hefty payout plans
The Fed has allowed the 34 largest US banks to use extra capital for stock buybacks, dividends, and other purposes. These banks will be able to pay out 100% of their projected net income over the next year—compared to 65% last year. It was the first time since the 2008 financial crisis that banks were allowed to return 100% of their net income.
JPMorgan Chase (JPM) hiked its quarterly dividend 12% and increased share repurchases to $19.4 billion over the next year—approximately 90% higher than last year. Citigroup (C) plans to double its dividend and will likely purchase up to $15.6 billion. Bank of America (BAC) is enhancing its dividend 60% and will buy back up to $12 billion. Berkshire Hathaway plans to exercise its warrants to buy 700 million Bank of America shares next quarter. Berkshire Hathaway would become the largest Bank of America shareholder.
On the other hand, the Fed has asked Capital One Financial (COF) to resubmit its scheme by the end of the year since it didn't appropriately account for risks in one of its businesses.
Article continues below advertisement
Financials rally after huge payouts plans
Major banking stocks rose after the Fed approved huge payout plans. Wells Fargo (WFC) rose 2.7% and Citigroup (C) rose 2.8%. Regions Financial (RF) and KeyCorp (KEY) also rose. The KBW Bank Index rose 4.2% during the week and closed at 95.60—a three-month high. Financials posted the biggest gain of 3.3% during the week among sectors in the S&P 500 Index (SPX-INDEX), which fell 0.6%. Regions Financial (RF) was the biggest percentage gainer of the 34 banks involved in the stress tests—it rose 8% in the week.
Morgan Stanley bullish on bank stocks
James Gorman, Morgan Stanley's (MS) CEO, said in an interview that he's bullish on bank stocks. They're expected to benefit from higher interest rates, less regulation, better capitalization, and strong liquidity.
Article continues below advertisement
MetLife's board approves spin-off
MetLife's (MET) board of directors approved a spin-off of its US life insurance unit—Brighthouse Financial. Under the arrangement, shareholders holding 11 shares of MetLife will receive one share of BrightHouse Financial. MetLife stock rose 5.1% last week.
ETF inflows rebounded
After modest gains last week, ETF inflows jumped sizably during this week. According to Factset, US-listed ETFs added $3.6 billion during the week, which brought the year-to-date total to $249 billion. US equity witnessed outflows worth $3.7 billion, while international equity had $4.3 billion in inflows. Outflows were led by US equity ETFs like the SPDR S&P 500 ETF Trust (SPY), the iShares Russell 2000 ETF (IWM), and the iShares Russell 1000 Growth ETF (IWF) with redemptions of $3.1 billion, $1.0 billion, and $850 million, respectively. On the other hand, the Vanguard FTSE Developed Markets ETF (VEA) had $1.1 billion in inflows during the week. US fixed income was more popular compared to equities with inflows worth $2 billion.
Article continues below advertisement
Disappointing data call for caution on rate hikes
James Bullard, president of the St. Louis Federal Reserve, said in an interview that the Fed should defer more rate hikes until the government initiates concrete reforms. He added that weak economic data aren't supporting the Fed's rate hike agenda.
Upcoming events
US data pertaining to construction spending for May, the ISM manufacturing index for June, the trade deficit for May, and the unemployment rate for June will be released this week. The trade deficit is expected to fall moderately to $46.2 billion from $47.6 billion in April. The unemployment rate is expected to rise marginally to 4.4% from 4.3% reported in May.
On the international front, the Reserve Bank of Australia will be announcing its interest rate decision this week, while the Eurozone unemployment rate will also be out.