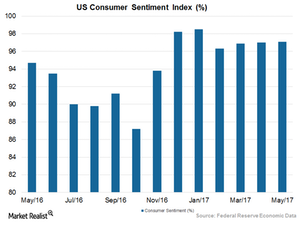 Equity Residential's Main Revenue Drivers in 2Q17
Higher revenue growth in 2Q17
Equity Residential (EQR) is expected to experience slightly lower margins, mainly due to the higher cost of debt. However, it's expected to take off very soon backed by its sales-boosting initiatives.
The Fed has embarked on a strategy to hike interest rates in a phased manner in order to reach its target level of 2.0%. It hiked the interest rate in December 2016 after a long period of record-low interest levels. It hiked the rate again in March and June of 2017.
Article continues below advertisement
Growing economy a boon for Equity Residential
Amid the new pro-American wave under President Donald Trump, the economy is buzzing with optimism. Consumers have increased their levels of spending since they're now more confident about the economy. Consumer sentiment has risen in the first half of 2017. The consumer sentiment index has had a boost from a slow but steady increase in employment, lower gas prices, and higher GDP. That's expected to help REITs such as Equity Residential (EQR), AvalonBay Communities (AVB), Camden Property Trust (CPT), and Essex Property Trust (ESS). These companies make up about 9.0% of the Vanguard REIT ETF (VNQ), which invests in healthcare, self-storage, and residential REITs.
Trump's call to "buy American, hire American" has resulted in more jobs, thus indirectly triggering demand for Equity Residential's apartments. Since both Millennials and Baby Boomers are part of the US demographic that's entering the apartment housing market, the company is expected to witness higher demand for its rental apartments in 2Q17.
Seattle expected to drive revenue growth in 2Q17
During 1Q17, Equity Residential benefited significantly from Seattle. There was significant income growth in the region mainly due to higher job opportunities offered by Amazon (AMZN). New York is also expected to drive total renewal growth due to higher job opportunities. EQR expects leasing activities to dampen in the second half of the year. It expects to maintain its renewal rate by adding value service to its residents, thus keeping them in an EQR community.