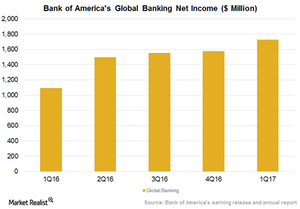 Bank of America Global Banking Penetration Higher in 2Q17
By Robert Karr

Updated
BAC's Global Banking division
Bank of America's (BAC) Global Banking division garners revenues in the form of core banking services, investment banking services in Europe, Asia, and Africa. The bank has expanded its reach as well as the scope of services in the recent years to achieve diversified earnings globally. In the recent quarters, the division's profits have increased on an increase in investment banking, advisory fees, higher deposits and loans, and other noninterest income.
Article continues below advertisement
In 2Q17, the division is expected to see subdued growth on a sequential basis, driven by subdued advances and growth in transaction advisory fees. In 1Q17, it posted net income of $1.73 billion, as compared to $1.58 billion in 4Q16 and $1.09 billion in 1Q16. The growth was mainly due to non-interest income, higher interest margins, lower expenses, and a substantial decline in provisions on improvement in energy offerings.
Investment banking rises strongly
Investment banking firms (XLF) have seen a strong rebound in their transaction advisory offerings as well as fees as global growth rebounds on lower interest rates. Major bankers, including J.P. Morgan (JPM), Goldman Sachs (GS), and Citigroup (C), have seen tremendous growth in investment banking fees. They've found help from a buoyant broad market (SPY), improving corporate profits and liquidity, cross-border transactions, and China's interest in global assets, partially offset by rising interest rates.
Bank of America's global banking managed loans and leases of $342.9 billion in 1Q17—growth of 4%. It also recorded average deposits of $304.1 billion—a rise of 2% on a YoY basis. Investment banking fees for the division rose 37% to $1.6 billion in debt issuances and merger and acquisition fees.
BAC's global banking's efficiency ratio has fallen to 44% in 1Q17 from 49%. This change means lower spending, credit reserves, and a higher number of deals for the majority of its sectoral teams.