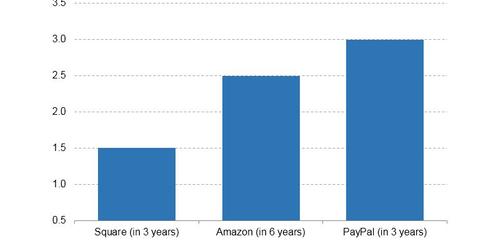 Why eBay Might Need a Native Credit Service
By Neha Gupta

Updated
Small loans to vendors
In addition to delivery speeds, credit to sellers can be seen as reshaping e-commerce competition. For eBay (EBAY), Amazon's (AMZN) recent credit update could be seen as a wakeup call.
Amazon recently said that it offered ~$1.0 billion in credit to sellers on its platform in the past 12 months, Reuters reported. That implies that the company has supplied more than $2.5 billion in small business loans to its marketplace vendors since it introduced its lending program six years ago.
According to Amazon's vice president of its marketplace segment, Meeyush Nahar, merchants have used the credit line to expand their inventories and discount the items they sell on Amazon.
Article continues below advertisement
Big banks sit out small business loans
As traditional lenders like JPMorgan Chase (JPM) and Bank of America (BAC) have sought to reduce their exposure to risky loan operations such as lending to small businesses, the demand for small business credit has grown.
This trend has created an opportunity for Amazon, PayPal (PYPL), and Square (SQ). Over the past three years, PayPal and Square have supplied $3.0 billion and $1.5 billion, respectively, in loans to their customers.
Amazon's small business loans
For Amazon, supplying small business credit to sellers is yielding multiple benefits for the company. In addition to the fees on its loans, this credit program is encouraging more selling on Amazon, creating a loyal base of customers and unlocking more opportunities for sales commissions.
While eBay sellers are not starved for loans since they can secure credit via PayPal, a native credit service could be more strategic. It could boost its marketplace sales, and the increased traffic could also contribute to eBay's Classified business.