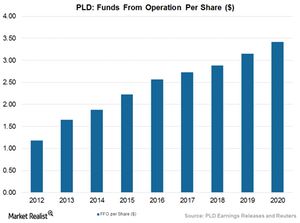 How Prologis Has Managed to Remain Afloat amid Online Hype
Are commercial REITs facing an existential threat?
Investors are skeptical about the condition of the retail sector. Many retail outlets, unable to compete with the overwhelming craze of online shopping, are suffering from declining revenues and dwindling traffic at its stores. Some retailers are shutting down stores, causing commercial REITs (real estate investment trusts) to lose anchor tenants and prompting mall owners to close down.
Prologis's (PLD) logistic warehouses are located in the busiest business centers, which help it tap the advantages of proximity to airports, seaports, and highways. Its type of business is also in line with current trends in retail, and such companies are now concentrating on supply-chain consolidations and special services like same-day delivery.
Article continues below advertisement
Bright prospects ahead
Prologis is expected to ride high on its growth trajectory. For 2017, the company raised its adjusted FFO (funds from operation) projection by $0.10 per share and now expects to report FFO in the range of $2.72–$2.78 per share. The raised guidance reflects efficiency from operations, higher promotions, and higher deployment.
Analysts expect Prologis to report FFO of $2.73, which would be in line with expectations and a rise of 25.5% in 2Q17. Although the company is expected to experience an 8.6% fall in 3Q17, it's expected to turn around and post growth of 8.6% and 14.1% in 4Q17 and 1Q18, respectively.
Prologis reported adjusted FFO growth of 39.8%, 13.9%, 18.6%, and 15.2%, respectively, in 2013, 2014, 2015, and 2016.
Strong start to 2017
For 1Q17, Prologis reported AFFO (adjusted funds from operations) of $0.63 per share, which was 0.3% below the analysts' expectations. Its results came in 3.2% higher than its AFFO of $0.61 per share reported one year ago, however, due to a boom in housing, construction, and e-commerce, which drove demand for the company's facilities.
For 1Q17, Prologis reported FFO of $2.57 per share. Close competitors Duke Realty (DRE), Kilroy Realty (KRC), and Boston Properties (BXP) reported AFFOs of $1.20, $3.46, and $6.03, respectively.
On April 19, 2017, PLD stock rallied 0.3% to $54.3, one day after its 1Q17 earnings release.
Notably, Prologis, Due Realty, Kilroy, and Boston Properties together make up 14.1% of the iShares Cohen & Steers REIT ETF (ICF).