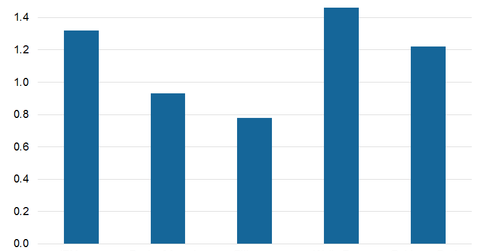 Will Investors Revalue the Banking Space after the Trump Turmoil?
By Robert Karr

Updated
Revaluing the banking space
Commercial banks (XLF) saw their stocks revalued upward following the election of President Donald Trump on hopes of banking deregulations, the repeal of the Dodd-Frank Act, and lower taxes.
However, recent revelations of Trump's trying to persuade former FBI Director James Comey to drop a probe on former national security adviser Michael Flynn have caused the investor community to rethink some of their valuations for companies across the sectors.
JPMorgan is currently trading at a premium valuation of 1.30x. The bank has commanded a premium compared to industry averages mainly due to its expanding loan book, credit report card, strong risk policies, and asset management business.
Article continues below advertisement
On the other hand, Bank of America (BAC) is valued at 0.93x, mainly due to its liquidity concerns, its failure in three out of five stress tests, and the presence of risky structured holdings on its balance sheet. The bank was expected to be a major beneficiary of Trump's policies, and it lost some value on concerns about the implementation of these policies.
Most expensive and cheapest stocks
Citigroup (C) is trading at a price-to-book multiple of 0.77x, the lowest among the major banks. Banks' lower valuations of late are mainly the result of their weaker performances since the 2007 financial crisis, their shedding of risky assets, and their selling of profitable divisions in order to pass stress tests.
Wells Fargo (WFC) is currently trading at a price-to-book multiple of 1.47x, the highest among major banks. The bank has garnered a premium valuation due to its asset quality, its stable earnings, and investments from Warren Buffett's Berkshire Hathaway (BRK-B).