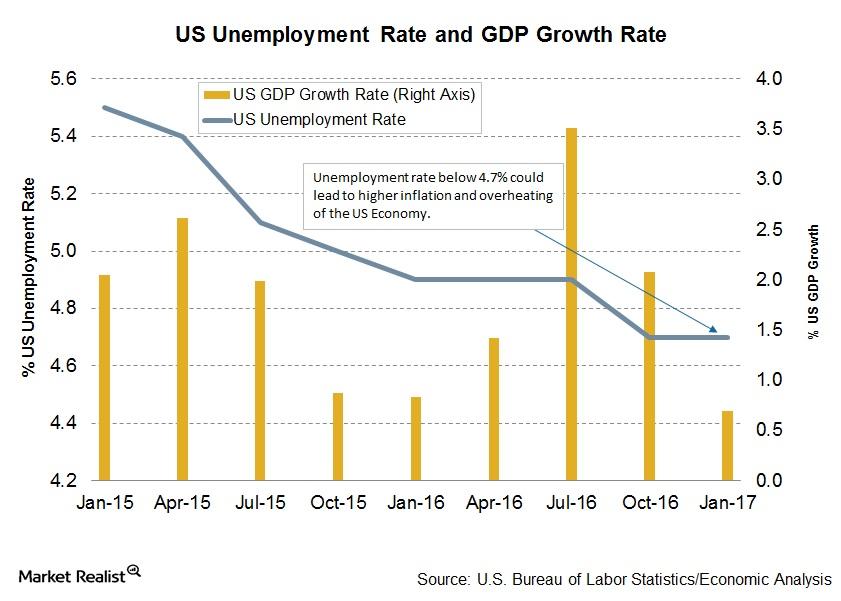 Why Eric Rosengren Is Worried about US Unemployment Rate
By Ricky Cove

May. 11 2017, Published 2:29 p.m. ET
What Rosengren is worried about
Eric Rosengren, president of the Federal Reserve Bank of Boston, spoke recently at the New York University Stern School of Business. He warned about the jobless rate being below the natural full employment estimate of 4.7% and that any further fall near the 4.0% mark could lead to higher levels of inflation (VTIP). He said that would eventually force the Fed to raise interest rates (BND) sooner than expected.
Article continues below advertisement
Lower unemployment will lead to higher inflation
So what does Rosengren mean that lower unemployment could lead to higher inflation? When most of the population is employed, spending power increases, which in turn increases the demand for goods in the marketplace. Increased demand will likely push prices higher, which will lead to higher inflation. Whenever inflation tends to move higher, the Fed swoops in to drain excess liquidity by increasing interest rates.
Rosengren is worried about Fannie Mae and Freddie Mac
In the same speech, Rosengren voiced his concern about the proposed reforms to Fannie Mae (FNMA) and Freddie Mac (Federal Home Loan Mortgage Corporation) (FMCC), which are GSEs (government-sponsored enterprises). These reforms could have a drastic effect on the commercial real estate market.
Rosengren said that both Fannie Mae and Freddie Mac have a large footprint in the segment through the multifamily sector. Currently, both of them guarantee 44.0% of multifamily loans.
Sudden changes to the structure of these companies could impact investors in the housing sector (TOL) (DHI) who have invested in these GSEs.
In the rest of this series, we'll look at comments made by Fed members at various events after the FOMC (Federal Open Market Committee) meeting on May 2–3, 2017.
If you want to know what happened at the FOMC May meeting, be sure to read Your FOMC May Meeting Update.