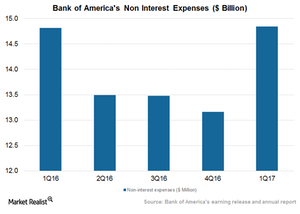 What the Future Holds for Bank of America's Efficiency Ratio
By Robert Karr

Updated
BAC's focus on scale and efficiencies
Commercial banks (XLF) have seen weaker operating performances after the recession that began in 2007 stemming from losses on structured holdings. In an effort to improve bottom lines, banks have started to cut back on administrative and employee expenses and have been targeting inefficiencies.
Bank of America (BAC) has also improved its efficiencies by putting a strong expense management policy in place. In 1Q17, the bank achieved a 7% operating leverage, which reflects the company's controlled spending, and this trend is expected to continue in coming quarters due to similar levels of spending and higher NIMs (net interest margins).
Article continues below advertisement
BAC posted non-interest expenses of ~$14.9 billion in 1Q17, as compared to ~$13.2 billion in 4Q16 and $14.82 billion in 1Q16. The higher spending was mainly due to incentives, FDIC (Federal Deposit Insurance Corporation) expenses in BAC's Global Wealth segment, and the non-recurrence of litigation recovery recorded in 1Q16 in its Global Markets segment.
BAC managed lower expenses of $55 billion in 2016, as compared to $58 billion in 2015, reflecting strong expense management as revenues rose 1%.
Efficiency ratio outlook
Bank of America's efficiency ratio stood at 66.2% in 1Q17, as compared to 70.5% in 1Q16, reflecting higher operating margins and lower spending. (An efficiency ratio is a percentage of operating expenses divided by net revenue.)
The bank saw higher compensation expenses in 1Q17, resulting in a marginal rise in overall expenses on a YoY (year-over-year) basis.
Bank of America has kept a target of $53 billion for non-interest spending in 2017, as compared to $55 billion in 2016. This should keep improving its efficiency ratio to around 63%–65%. 
To be sure, peers J.P. Morgan (JPM), Wells Fargo (WFC) Citigroup (C), are also targeting operating efficiency and higher margins through lower spending.