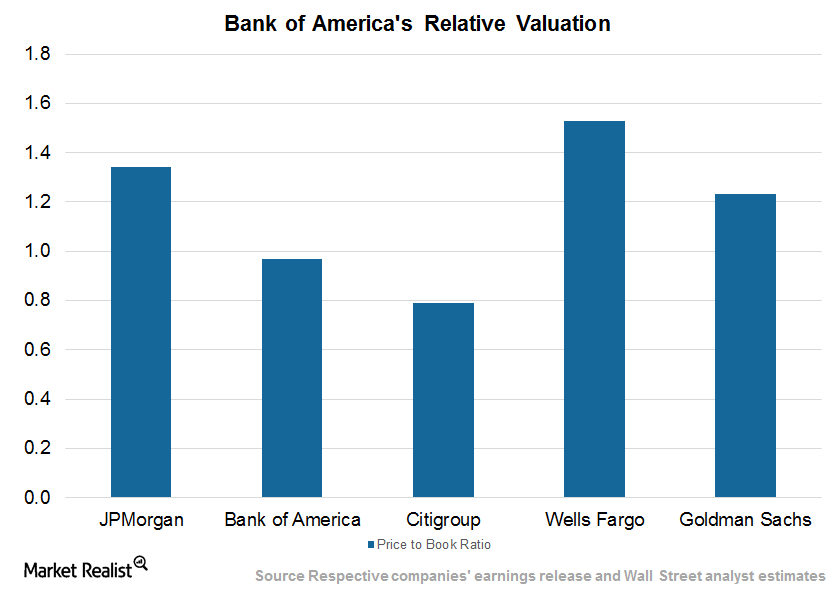 Is Bank of America's New Valuation a Fair One?
Banking under Trump
Bank of America (BAC) stock has risen 13.5% over the past six months and 58.7% over the past year, backed by the expectation of banking deregulations, operating performance, higher NIMs (net interest margins), and trading activity. In 1Q17, BAC posted net income of $4.4 billion, as compared to $3.0 billion in 1Q16.
BAC stock is currently trading at an 11% discount to its 52-week high, driven by the recent decline in the wake of Trump's efforts to influence independent agencies in the ongoing investigation of his administration's Russian ties.
Bank of America generated a ROA (return on assets) of 0.88% in 1Q17, which was higher than its 2016 return of 0.82%. The bank's book value per share in 1Q17 rose 5% to $24.36, while its tangible book value rose 6% to $17.23.
Article continues below advertisement
Investors can get good valuations
The commercial banking sector (XLF) is valued by PBV (price-to-book) multiples. BAC is trading at a PBV multiple of 0.95x, as compared to the industry average of 1.19x. The bank is trading at a premium valuation to Citigroup (C).
These discounted valuations have mainly come from higher regulatory costs, capital requirements, risk policies, and failures in most stress tests. However, the gap has shrunk in recent quarters on the strong rebound in earnings, fewer reserves, rising NII, NIMs, and the Wealth Management division.
By comparison, Bank of America's peers are trading at the following PBV multiples: