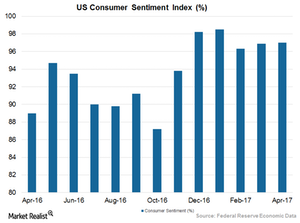 GGP and Retail REITs: Malls Are Winning the Fight against Depletion
By Jennifer Mathews

May. 30 2017, Updated 10:37 a.m. ET
How the rate hike could affect GGP
Mall owners appear to be well-positioned in the United States' current political and economic climate. Real estate investment trusts (or REITs) like General Growth Properties (GGP) thrive even during hawkish interest rate regimes and tightly controlled monetary environments. The requisite for REITs to prosper is a strongly growing economy.
Article continues below advertisement
The economy and commercial real estate
The current political environment could boost the commercial real estate market, as the stage is set for the economy to grow. After Donald Trump's election, the stock market saw a sustained rally. Trump's economic reforms have increased optimism among his voters, and the job market has grown substantially over the last few months.
Slow, steady growth in the job market has triggered a spike in consumer confidence in the economy. Favorable income growth coupled with lower inflation has increased this confidence, as consumers have higher real income expectations after an extended economic downturn.
According to preliminary results released by the University of Michigan in May 2017, the consumer sentiment index gained 3.2% year-over-year for May to date, standing at 97.7%. This index reading was 0.7% higher than the 97% level recorded in April 2017.
GDP
Especially for retail REITs like General Growth Properties (GGP), the country's gross domestic product growth is a boon, as higher disposable income prompts consumers to increase their discretionary spending. Discretionary spending can encourage increased visits to malls and shopping centers. The University of Michigan survey indicates that consumers are inclined to spend their increased income on household durables.
Article continues below advertisement
Retail REITs appear to be prepared to tap this opportunity. In order to encourage frequent visits to malls, they are working to provide new and creative entertainment and shopping experiences. These strategies include renovating and restructuring their shopping centers into entertainment zones that offer upgraded services.
Trump effect could help boost margins
President Trump doesn't appear to be inclined to support a higher minimum wage for workers. This could help retail REITs control their operating expenses, boosting their margins.
As a result, interest rate hikes could be a blessing in disguise for REITs like GGP, Simon Properties (SPG), Macerich (MAC), and Kimco Realty (KIM).
General Growth Properties (GGP) comprises ~1.5% of the Vanguard REIT ETF (VNQ).
In the next article, we'll find out how GGP rewards its shareholders.