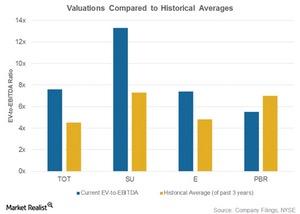 TOT, E, PBR, SU: Are They Trading above Historical Averages?
By Maitali Ramkumar

Updated
Energy stocks trade above historical averages
In this part, we'll look at integrated energy stocks' EV to EBITDA compared to their three-year historical average. Total (TOT), Suncor Energy (SU), and ENI (E) are currently trading above their historical EV to EBITDA. However, Petrobras (PBR) is trading below its historical average.
Suncor's valuation multiple is the highest at 13.3x compared to peers, which is also higher than its historical EV to EBITDA, which stands at 7.3x. Total and ENI's current EV to EBITDA stand at 7.6x and 7.4x compared to historical multiples of 4.5x and 4.8x, respectively. However, Petrobras trades at 5.5x, which is below its historical average of 7.7x.
Article continues below advertisement
Why some stocks trade above historical averages
TOT, SU, and E trade above historical averages, likely because of the faith that investors have in them in terms of their ability to sustain the oil cycle. Despite the fall in energy prices in the past few years, investors have held on to these stocks, probably because investors believe that these companies' performances will improve with the next uptrend in the oil price cycle.
Why lower valuations for PBR?
However, Petrobras (PBR) trades below the peer average, which is likely because PBR has faced turbulent times not only due to the fall in oil prices but also due to money laundering charges levied on PBR's former personnel.
Plus, lower oil prices affected PBR's financials, leading to a drop in its earnings and a sharp rise in its leverage. However, the company has undertaken measures to improve its financials and regain stakeholders' credibility. For more on this, please read Petrobras's Strategy: Financial Strength, Credibility in Focus.
For exposure to foreign stocks, you can consider the iShares Global Energy ETF (IXC). The ETF contains TOT, E, SU, and PBR in its portfolio. IXC also has 55% exposure to integrated energy stocks globally. However, if you're looking for exposure to large US companies, you can consider the SPDR Dow Jones Industrial Average ETF (DIA). The ETF also has ~6% exposure to American integrated energy majors ExxonMobil (XOM) and Chevron (CVX). XOM and CVX are also trading above historical averages.