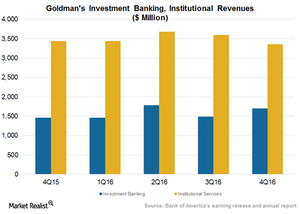 Inside Goldman's Investment Banking and Institutional Services in 1Q17
By Robert Karr

Updated
Investment banking
Goldman Sachs's (GS) investment banking division posted revenues of $1.7 billion in 1Q17, representing a growth of 16% on a YoY (year-over-year) basis, mainly due to higher equity underwriting revenues. The division saw a 2% decline in revenues for the financial advisory division to $756 million, mainly due to fewer merger and acquisition closures.
Revenues from underwriting rose 37% to $947 million, mainly due to equity underwriting, and leverage finance activity led underwriting for debt. The division's transaction backlog declined in comparison to 1Q16 as well as during the previous quarter, reflecting the possibility of lower growth in 2Q17. Commercial banking peers (XLF) Morgan Stanley (MS), JPMorgan (JPM), Bank of America (BAC) have also seen a strong growth in investment banking divisions for 1Q17.
Article continues below advertisement
Institutional client services
Goldman Sachs saw 2% fall in revenues from institutional services to ~$3.4 billion. Sequentially, the division saw a 7% fall in revenues. Revenues for equities fell 6% to ~$1.7 billion, mainly due to lower commissions, fees on lower volumes in the US, and declines in securities services, partially offset by higher revenues in equities and client acquisitions.
The division saw flat revenues for fixed incomes at ~$1.7 billion, reflecting higher revenues in mortgages, and interest rate products, offset by significantly lower revenues in commodities, currencies, and credit products. Of course, Goldman Sachs will have to address the issue of relatively lower trading revenues in order to hold onto the stock gains it has seen over the past year.
In the next part, we'll discuss the company's investment management and lending businesses.