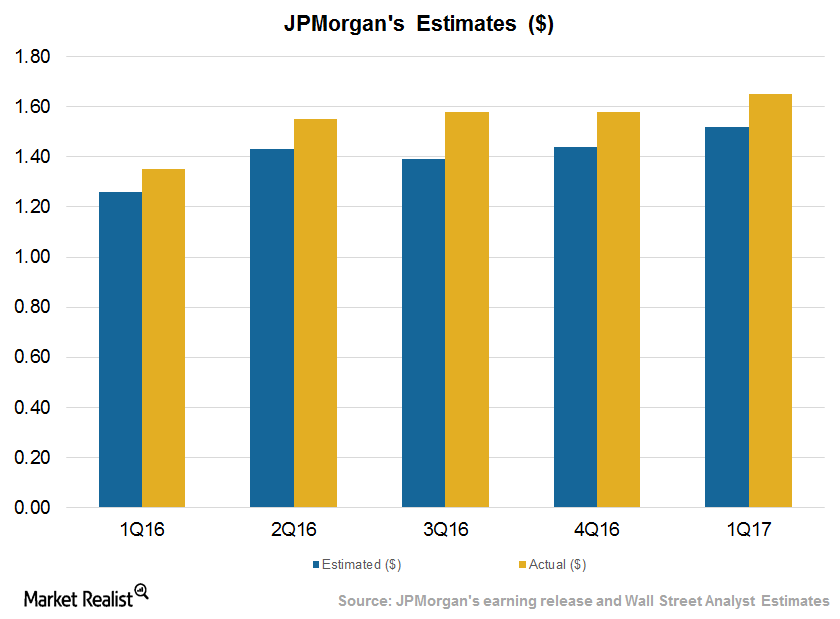 How J.P. Morgan Beat 1Q17 EPS Estimates
By Robert Karr

Apr. 17 2017, Updated 12:01 p.m. ET
Continued strong performance
In its 1Q17 earnings release on April 13, 2017, JPMorgan Chase (JPM) posted EPS (earnings per share) of $1.65, beating Wall Street analysts' estimates of $1.52. These higher earnings came on the back of continued growth in trading and investment banking revenues but were partially offset by lower net income in consumer and community banking and asset and wealth management.
For 1Q17, JPM posted revenues of $25.6 billion, as compared to $24.1 billion in 1Q16, and the stock rose by 1% on these upbeat results. By comparison, peers Citigroup (C) and Wells Fargo (WFC) reported results that beat EPS estimates by 12 and 4 cents, respectively.
Article continues below advertisement
JPM Chairman and CEO (chief executive officer) Jamie Dimon stated the following in a press release: "The consumer businesses continue to grow core loans at double digits [and] outperform the industry in deposit growth, and we once again had very strong card sales volume growth this quarter…reflecting our commitment to providing our customers the innovative products and services they want."
Controlled spending
JPM managed to generate ROE (return on equity) of 11% in 1Q17, partially impacted by higher non-interest expenses of $15.0 billion. The expenses rose 9% on a YoY (year-over-year) basis, mainly due to higher compensation, legal expense, and FDIC (Federal Deposit Insurance Corporation) insurance.
For JPMorgan's consumer and community banking, the division saw strong 11% growth in its core loan book and deposits in 1Q17. It also saw a rise of 15% in credit card sales volumes and an 11% rise in merchant processing volumes.
Investment banking
In its investment banking division, JPM maintained the number one ranking for global investment bank fees, aided by its 8.5% wallet share in 1Q17, as compared to 8.1% in 2016.
In its asset management business, J.P. Morgan had $1.8 trillion in total assets on March 31, 2017, which represents a rise of 10% YoY. The growth was helped by long-term flows and the performance of the broader index (SPX-INDEX) (SPY).
In this series, we'll study J.P.. Morgan's performance, banking, growth outlook, asset management, and valuations in 1Q17. Continue to the next part for a look a JPM's net interest margins.