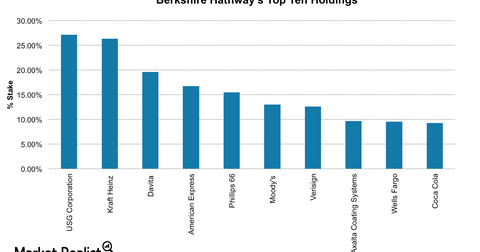 Why Warren Buffett Still Loves Wells Fargo
By Rebecca Keats

Feb. 14 2017, Updated 9:06 a.m. ET
Warren Buffett's holdings
In a November 2016 interview on CNN, Warren Buffett, Wells Fargo's (WFC) largest shareholder, shared his views on the bank after its recent scandals. Buffett still holds the view that Wells Fargo is a "great bank" and has not sold any of his WFC stock.
Buffett's Berkshire Hathaway (BRK.A) is the largest shareholder in Wells Fargo (WFC). The conglomerate holds ~10% of WFC stock, and Buffett personally holds about 2 million shares of Wells Fargo stock.
Article continues below advertisement
Buffett acknowledged that Wells Fargo's incentive system was a "terrible mistake" and believed that its sales goals corrupted people. He added that the bank (XLF) did not take sufficient steps to fix the problem. Buffett mentioned during the CNN interview, "It's a great bank that made a terrible mistake."
Buffett also considers WFC's former CEO, John Stumpf, a "very decent man" who "made a hell of a mistake." He agrees with the bank's decision to replace Stumpf with its new CEO, Tim Sloan, and that it could take a while for Sloan to restore customer confidence in the bank.
Why Buffett still loves Wells Fargo
Warren Buffett has not sold any of his Wells Fargo stock, and he noted that the bank is an "incredible institution." Buffett believes the bank still has significant upside potential due to its high profitability and efficiency when compared to its peers.
Wells Fargo (WFC) has the highest return on assets and return on equity when compared to peers Citigroup, JPMorgan, and Bank of America.