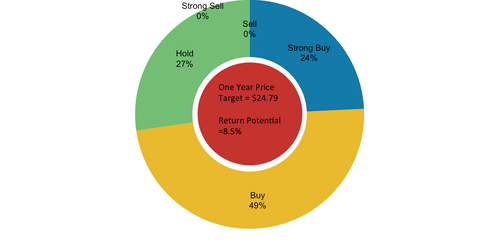 Analysts Assess Bank of America and Wells Fargo
By Rebecca Keats

Feb. 22 2017, Updated 7:35 a.m. ET
Wall Street ratings
Wall Street analysts have been bullish on Bank of America stock in hopes of an interest rate hike and cheap valuations. In a Reuters survey of 38 analysts, eight analysts assigned a "strong buy" rating to Bank of America (BAC), and 16 rated it as a "buy." BAC stock has received nine "hold" ratings and no "sell" ratings.
Overall, three analysts rated Wells Fargo (WFC) as a "strong buy," and 11 rated it as a "buy." Wells Fargo has received 14 "hold" ratings, five "sell" ratings, and one "strong sell" rating. Despite an outlook for higher interest rates, fewer regulations, and lower taxes, analysts have downgraded Wells Fargo due to its expensive valuations.
In a post-earnings note, Morgan Stanley (MS) reiterated its "buy" rating on Wells Fargo, and Guggenheim downgraded WFC to "neutral."
Jefferies reiterated its "hold" rating while CLSA rated it as "outperform." Argus analyst Stephen Biggar cut Wells Fargo's rating to "hold" following its lackluster 4Q16 earnings report.
UBS downgraded Bank of America (BAC) to "neutral" and assigned a price target of $23. In an investor's note, analyst Saul Martinez commented that BAC stock has reached its full valuation, reducing its attractiveness. Also, low interest rates detract from Bank of America's profitability.
Article continues below advertisement
Société Générale upgraded Bank of America (BAC), Morgan Stanley (MS), and JPMorgan (JPM) to "buy" in anticipation of lower taxes and higher interest-related income under the Trump administration. Société Générale analyst Andrew Lim wrote in a note, "The increase in earnings will likely be significant for some banks, in our view, more than justifying the recent rally in share prices for US-centric banks." Lim also noted that Bank of America has excess capital for share repurchases, which could give BAC stock a 10% increase in earnings per share.
Meanwhile, Wells Fargo (WFC) upgraded US banks (XLF) to "overweight" and tapped Bank of America as its top pick for 2017.