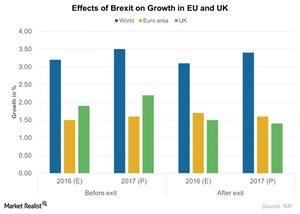 How Brexit Has Affected Global Markets
By Mary Sadler

Updated
Brexit impact
Gorman was disappointed with the UK's decision to leave the European Union. The UK's referendum had some immediate effects on the markets (VGK) (HEDJ):
Initially, global equity prices fell as an immediate effect, but have rebounded lately.
Bond yields fell, reflecting the weak market sentiment, especially in advanced economies.
The pound depreciated.
Article continues below advertisement
Will Brexit continue to slow down global growth?
Gorman admired the EU, as it experienced seven years of prosperity, not seen previously in its history. However, recent populist views, immigration issues, and internal conflicts led to the exit of its key participant. The banking sector in the region is still vulnerable due to the 2008 global financial crisis (EWU) (EWG) (FEZ). The bank equity valuations (UBS) (DB) (RBS) (CS) are still low in the UK and Europe.
The effects of Brexit are not only confined to a macroeconomic perspective, but they also have a geopolitical and institutional impact as well. Due to the contraction of the UK economy, the spillover effects might be more significant in the EU area due to its size.
As of January 2017, the IMF in its World Economic Outlook Update, kept the global forecast for 2016 and 2017 at 3.1% and 3.4%, respectively. The advanced economies were up by 0.1% in 2016 and 2017 as compared to October 2016, mainly due to policy decisions of the new administration. The emerging market and developing economies remained at the same level as of the October update for 2016 but increased by 0.1% for 2017.
Article continues below advertisement
The IMF revised its forecast to a 1.5% growth in GDP for the UK for 2016. This revision was down from 1.9% in April. The 2017 forecast dropped to 1.4% as compared to the previous estimate of 2.2%. The IMF also revised its estimate for the EU up by 0.1% for 2017. The 2016 growth is still projected to be slightly higher than the forecasted growth rate due to the first half of the year experiencing high demand and investments.
Some portion of UK financial services is expected to gradually relocate to the Euro area, which would impact UK activity. Gorman stated that they would work with the UK government in the smooth transition of their employees to other parts of the EU. Gorman further said that the Brexit would be disruptive and expensive for market participants. He believes that globalization helps in creating an efficient movement of capital from issuers to investors, and the barriers create challenges.
Let's look at some of Trump's proposed financial regulations and Gorman's views on the same in the next article.